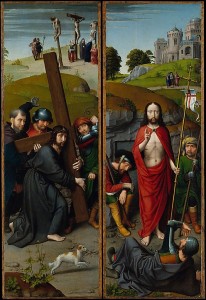 This two-year fellowship provides curatorial training and opportunities for scholarly research at the Metropolitan Museum. The fellow is fully integrated into one of the Museum's curatorial departments and exposed to the full range of curatorial work, while devoting his or her time to a specific Metropolitan Museum project. The individual works directly with one or more curators, who serve as supervisors and mentors throughout the term of the fellowship. The fellow also has the opportunity to undertake an independent project in consultation with his or her supervising curator. One curatorial fellow will be selected for 2014–2016.
Department Areas
Applicants whose work falls in one of the following areas may apply:
Departments of European Paintings and Modern and Contemporary Art: to work with curators across departments on the research and development of an exhibition that explores issues inherent in European works of art that have remained unfinished from the Renaissance to the twentieth century.
Department of European Sculpture and Decorative Arts: to conduct research on the Museum's collection of textiles from the Renaissance to the nineteenth century towards a highlights collection catalogue, complementary exhibition, and multimedia project focused on technical processes in luxury textile production.
Department of Islamic Art: to catalogue and produce finding aids for The Ernst Herzfeld Papers and The Nishapur Excavation Records and to work with the Department of Islamic Art and other relevant departments in the Museum to develop ways of facilitating access to these materials through exhibitions and digital tools.
Department of Musical Instruments: to conduct provenance research on non-Western instruments in the Metropolitan Museum collected in the field during the nineteenth and early twentieth centuries towards the redisplay of the Musical Instruments galleries and related interpretive materials.
The Robert Lehman Collection: to conduct research and catalogue Italian and Northern European paintings ca. 1300–1600 for integration in the online collections database.
Eligibility
Candidate must hold a doctoral degree (or international equivalent) in art history or archaeology in a field related to one of the areas listed above and conferred within five years from the start date of the fellowship (between September 1, 2009, and September 1, 2014).
Terms
The Andrew W. Mellon Postdoctoral Curatorial Fellow is a full-time exempt employee of The Metropolitan Museum of Art. The position starts in September 2014. The fellow will receive an annual salary of $50,392, plus research and travel expenses up to a maximum of $6,000 and fringe benefits. This is a two-year fellowship. In rare instances, the Museum will consider an application for a third-year renewal.
Deadline for all application materials, including letters of recommendation:
October 15, 2013, 5:00 p.m. (EDT)