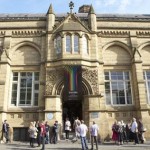 Doctoral Research Studentships, Manchester School of Arts The Manchester School of Art at Manchester Metropolitan University
Application deadline: Jan 22, 2016
Manchester School of Art AHRC NWCDTP Research Studentships Manchester Metropolitan University The Manchester School of Art at Manchester Metropolitan University, alongside the Universities of Manchester, Liverpool, Keele, Salford, Lancaster and the Royal Northern College of Music, is a member of the AHRC North West Consortium Doctoral Training Partnership. The Manchester School of Art seeks high quality research applications in the professions, practices, histories and theories of architecture, art, craft, design, film, media, new media, or the disciplines of visual and material culture. Successful candidates will already have training in the broad category of art and design or related disciplines. You will have substantial skills with a high 2:1 or first class BA (Hons) and a merit or distinction at MA or equivalent professional experience. We will consider applicants who wish to propose their own individual research projects or student-initiated projects in collaboration with a cultural organization outside of Higher Education. We welcome applications with interdisciplinary and multidisciplinary perspectives. Candidates must apply to MMU to be eligible to make an application for an NWCDTP studentship.
Before you make a formal application please contact Dr Myna Trustram (m.trustram@mmu.ac.uk) at the Manchester School of Art for further information, advice and feedback. For information on the NWCDTP competition go to:   http://www.nwcdtp.ac.uk/ and http://www.nwcdtp.ac.uk/howtoapply/ Closing date for applications to MSA: 22 January 2016 Interviews during the week of 25 January 2016 Closing date for applications to NWCDTP: 12 February 2016 Start date September 2016 You will be supervised by leading practitioners, historians and theorists: see http://www.art.mmu.ac.uk/research/ and http://www.art.mmu.ac.uk/research/miriad/
The postgraduate awards programme is administered as follows: +3 Scheme (Three years Doctoral Study) This scheme will provide support for up to three years of full-time study, or six years of part-time study, on a programme leading to the award of a doctoral degree 1+3 Scheme (One Year Master's + Three Years Doctoral Study) This scheme will provide support for students undertaking an eligible Master's programme which focuses on advanced study and research training explicitly intended to provide a foundation for further research at doctoral level, who will then progress to a doctoral programme. Please refer to Application Guidance, sub-section 9. Academic eligibility: Candidates must have qualifications of the standard of a good honours degree at first or upper second class level, from a UK academic institution. Applicants for +3 awards should normally possess or be studying for a Masters degree. In the majority of cases, candidates will have undertaken an undergraduate course and Masters course at a recognised UK higher education institution. However, some may have qualifications from outside the UK, or be able to offer a combination of qualifications and/or experience. Residential eligibility: Candidates must have a relevant connection with the UK in order to qualify for a full award. This includes candidates who have been ordinarily resident in the UK throughout the 3 year period preceding the date of application and resident for this 3 year period for reasons other than education. Also candidates that have settled status in the UK within the meaning of the Immigration Act 1971. Candidates from EU countries other than the UK are now eligible for full awards maintenance and tuition fees if they have been resident in the UK for at least three years prior to the start of their programme.
Candidates from EU countries who have not resided in the UK for three years prior to the start of their programme will be eligible for a fees- only award. For further information on residential eligibility please refer to the AHRC webpage: http://www.rcuk.ac.uk/skills/training/ A full postgraduate award for full-time study provides funds to meet: – The payment of approved fees to the institution – A maintenance grant The level of the maintenance grant for the academic year 2015-16 is as follows (the level of the grant for 2016-17 and after is subject to confirmation from the AHRC): £14,057 Students opting to study part time will receive a pro rata maintenance grant of the equivalent of a full time award. Student will receive additional disability allowance where appropriate. Fees Only Awards for eligible EU students provide the payment of tuition fees only. 'Fees-only' award holders are not eligible to receive a maintenance grant from AHRC funds.