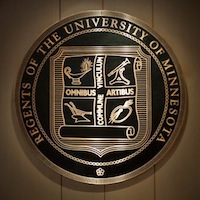 Contract Assistant Professor, Medieval/Renaissance Art History 
Job ID: 305327 
Deadline: November 12, 2015
Qualifications
PhD in Art History, or ABD.
Demonstrated scholarly excellence and successful college/university teaching.
Candidates will be evaluated according to the overall quality of academic preparation and professional experience, evidence of commitment to teaching and skills as a teacher, and strength of recommendations.
About the Job
The Department of Art History in the College of Liberal Arts at the University of Minnesota invites applications for an 80% time, contract faculty position in Medieval/Renaissance Art History beginning Spring 2016. Appointment will be at the rank of contract assistant professor.
The initial term of this appointment is academic year 2015/16, beginning January 14, 2016 and concluding May 29, 2016. The appointment is for a fixed term, with the likelihood of renewal for Academic Year 2016-17.
Contract faculty in the Department of Art History in the College of Liberal Arts are expected to maintain an active program of scholarly research, teach undergraduate and graduate courses, and contribute service appropriate for the rank of appointment.
Teaching responsibilities for spring 2016 will consist of 2 undergraduate courses in our core curriculum:
"Medieval Art"
"Art History Topics: The Renaissance Body."
If the position is extended, other undergraduate courses might include "15th Century Painting," and "Art History Topics." Course assignments will depend on qualifications.
About the Department
The Department of Art History at the University of Minnesota consists of approximately 10 core faculty, 65 undergraduate majors, and 20 graduate students.  Medieval and Renaissance art history have long been strengths of University of Minnesota and benefit from a thriving multi-disciplinary community of scholars across the College of Liberal Arts. In addition to UMN's own faculty, library, museum and archival resources, the Minneapolis Institute of Arts is home to one of North America's leading collections of Medieval and Renaissance Art.
The Department of Art History is housed within the College of Liberal Arts and has active collaborations with faculty throughout the University, including those in, Classical and Near Eastern Studies, the Center for Medieval Studies, the Center for Early Modern History, American Studies, Studio Art, and Cultural Studies and Comparative Literatures.
The College of Liberal Arts is committed to intellectual freedom, the pursuit of new knowledge, and the belief that the liberal arts are the foundation of academic learning. CLA prepares students to be independent and original thinkers, innovators in their chosen fields; to create meaning in their lives and in their life's work; and to become productive citizens and leaders in their communities and the world.
The College of Liberal Arts values diverse cultures, experiences, and perspectives as key to innovation and excellent education.
How To Apply
Applications must be submitted online.  To be considered for this position, please click the Apply button and follow the instructions.  You will have the opportunity to complete an online application for the position and attach a cover letter and resume.
Additional documents may be attached after application by accessing your « My Activities » page and uploading documents there. This position requires that you submit a C.V., a letter of interest, and a list of three references.
Applications will be accepted until November 12, 2015.
This position will remain open until filled.
To request an accommodation during the application process, please e-mail employ@umn.edu or call (612) 624-UOHR (8647).
Background Check Information
Any offer of employment is contingent upon the successful completion of a background check. Our presumption is that prospective employees are eligible to work here. Criminal convictions do not automatically disqualify finalists from employment.
About the U of M
The University of Minnesota, Twin Cities (UMTC), is among the largest public research universities in the country, offering undergraduate, graduate, and professional students a multitude of opportunities for study and research.  Located at the heart of one of the nation's most vibrant, diverse metropolitan communities, students on the campuses in Minneapolis and St. Paul benefit from extensive partnerships with world-renowned health centers, international corporations, government agencies, and arts, nonprofit, and public service organizations.