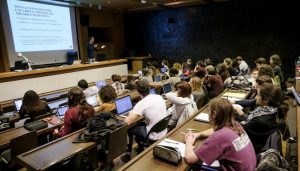 Deux postes de maîtres de conférences (Lecturers) en CDD sont proposés à des docteurs et doctorants par les universités d'Oxford et de Monash :
1) Departmental Lecturer in the History of Art, University of Oxford (Grande Bretagne), Faculty of History
Date limite : 24 juillet 2019.
Contrat de douze mois

Art médiéval et moderne ; réception de l'Antique
Departmental Lecturer in the History of Art
Department of History of Art, Littlegate House, St Ebbe's, Oxford
Grade 7 Salary in the range: £32,236 – £34,189 p.a.
This is an exciting opportunity to join our thriving History community and gain valuable teaching experience at both undergraduate and graduate levels. This post is offered by the History of Art Department in association with Christ Church.

The key teaching requirement will cover core History of Art courses, probably including a course examining the artistic reception of classical antiquity from the medieval to the modern period. We would like to hear from applicants with expertise in any area.

You will be required to contribute, with colleagues, to teaching through lectures, classes, and tutorials in History of Art, serve as convenor (or co-convenor) of the Final Honours School (2nd/3rd Year UG) History of Art course, and supervise graduate and undergraduate theses as necessary.

You will hold a doctorate in a relevant field (or show evidence that a doctorate is close to completion) and relevant experience of teaching undergraduates. You will demonstrate the ability to produce high quality publications and a familiarity with the existing literature in the field. Excellent communication skills and fluency in languages relevant to your research are essential.

This post is full-time and fixed-term for 12 months.

Applications for this vacancy are to be made online. To apply for this role and for further details, including the job description and selection criteria, please click on the link below.

The deadline for applications is 12.00 noon on 24 July 2019. We expect interviews to take place on 2 August 2019.

Applications are particularly welcome from women and black and minority ethnic candidates who are under-represented in academic posts in Oxford.

Contact Person :
Katherine Shone
Vacancy ID :
141456
Contact Phone :
Closing Date :
24-Jul-2019
Contact Email :
recruitments@history.ox.ac.uk
If you apply for this position please say you saw it on Socioloxy
2) Lecturer – Art History and Theory, Monash University (Australie) 
Date limite : 3 août 2019.
Contrat de douze mois
Histoire et théorie des arts, du design et de l'architecture
Job No.: 594573
Location: Caulfield campus
Employment Type: Full-time
Duration: 12 month fixed-term appointment
Remuneration: $97,203 – $115,429 pa Level B (plus 9.5% employer superannuation)
Everyone needs a platform to launch a satisfying career. At Monash, we give you the space and support to take your career in all kinds of exciting new directions. You'll have access to quality research, infrastructure and learning facilities, opportunities to collaborate internationally, as well as the grants you'll need to publish your work. We're a university full of energetic and enthusiastic minds, driven to challenge what's expected, expand what we know, and learn from other inspiring, empowering thinkers.
The Opportunity
Join us at Monash Art Design and Architecture, a creative community of artists, designers, architects and critical thinkers who integrate diverse knowledge on social, economic and human issues to create a world we want to live in.
You will work as a Lecturer for our Art History program, as part of a faculty which prides itself on achieving high standards of education delivery, fostering the University's world-renowned research culture and cultivating excellence through the successful mentoring of students.
As the Lecturer – Art History and Theory, you will bring your proven skills and qualifications in the field to deliver Art History and Theory units at an undergraduate level, including the coordination and delivery of core curating units, and the coordination of an internship program.
Your attributes include a doctoral or masters qualification in the relevant discipline area of Art History and Theory, Curating, or equivalent accreditation and standing.
This role is a full-time position; however, flexible working arrangements may be negotiated.
At Monash University, we are committed to being a Child Safe organisation. This position at the University will require the incumbent to hold a valid Working with Children Check.
Your application must address the selection criteria. Please refer to
 « How to apply for Monash Jobs« .
Enquiries
Associate Professor Luke Morgan FAHA, Director of Art History & Theory, +61 3 9903 1812

Position Description
 Lecturer – Art History and Theory (PDF)
Closing Date
Saturday 3 August 2019, 11:55 pm AEST