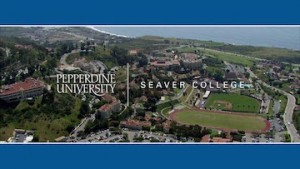 Pepperdine University's Seaver College announces the Fletcher Jones Chair in Western Culture. Applicants must have the Ph.D. in a discipline such as Art History, Classics, History, Literature, Philosophy or a related field, a demonstrable commitment to excellent teaching, and an outstanding record of peer-reviewed scholarly publication.
The Fletcher Jones Chair in Western Culture will be dedicated to increasing students' knowledge of the culture, history, and institutions of the world's major regions and countries while significantly strengthening faculty recruitment, retention and development. Key responsibilities will include teaching large undergraduate lecture classes in the Western Culture program, providing leadership in developing and coordinating curriculum and special projects, and extending the global presence of Pepperdine University through public engagement.
The chair will serve as a role model and resource for faculty who teach in the program both on the Malibu campus and in International Programs, coordinating instruction. He/she will also provide program leadership in assessing student learning and working together with faculty colleagues to adapt curriculum to meet changes in learning expectations.
Review of applications will begin October 15, 2016 and continue until position is filled; effective date of employment is August 1, 2017. For information on how to apply, please visit https://apply.interfolio.com/36453.
For more information, please contact the chair of the search committee:
Dr. April Marshall (April.marshall@pepperdine.edu)
Senior Associate Dean
Seaver College, Pepperdine University
24255 Pacific Coast Highway
Malibu, CA 90263-4237
APPLICATION INSTRUCTIONS
Applications should include the below documents:
A cover letter.
A curriculum vitae, indicating educational record, employment record, achievements, awards, publications, and other relevant information. Please also describe any civic, religious, or charitable interests and activities, and list all current organizational memberships.
Three letters of reference.
Official transcripts of all graduate work (copies are acceptable during the application process.  Official transcripts will be required for selected applicants).
A statement of teaching philosophy, which may focus on your motivation to teach at the university level and your thoughts about what constitutes effective pedagogy.
A statement of scholarly agenda, which may focus on your current area of emphasis and plans for professional development.
A response to the University/Seaver College mission. The University mission states that Pepperdine University is a Christian university committed to the highest standards of academic excellence and Christian values, where students are strengthened for lives of purpose, service, and leadership. For the mission of Seaver College, please click here. In your statement, please comment on your willingness to support the mission and Christian values of the University and Seaver College. Describe your involvement in a local community of faith (i.e., congregation, parish church, etc.), and describe how your personal faith relates to your teaching, your professional life, and/or your intellectual life.