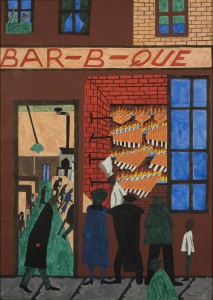 A wide range of Terra Foundation academic awards, fellowships, and grants help scholars realize their academic and professional goals and support the worldwide study and presentation of the art of the United States. The deadline for all academic award, fellowship, and grant applications is January 15, 2014 unless otherwise indicated.
Doctoral and Postdoctoral Research Travel Grants to the United States
The Terra Foundation offers Research Travel Grants to enable scholars outside the United States to consult resources that are only available within the United States. These grants provide support for research on topics concerning American art and visual culture prior to 1980. Six to twelve grants are awarded annually: up to $6,000 per grant for doctoral students and up to $9,000 per grant for postdoctoral and senior scholars. Some grant funding is reserved for scholars from Asia, Africa, and Latin America.
Grant funding is available for short-term travel that gives scholars:
An opportunity to discover new source material;
Experience works of art first-hand in museums and private collections;
Make contact with artists, curators, and art dealers;
Consult local archives and library collections;
Establish professional networks for future research.
Funds can be used for related transportation, lodging, meals, and research fees and expenses.

International Essay Prize for American Art, Smithsonian American Art Museum
The Terra Foundation for American Art International Essay Prize recognizes excellent scholarship by a non-U.S. scholar in the field of historical American art (circa 1500–1980). The winning manuscript will advance understanding of American art, demonstrating new findings and original perspectives, and will be translated and published in American Art, the Smithsonian American Art Museum's scholarly journal, which covers the cost of image rights and reproduction. The winner receives $1,000 and a $2,000 stipend to travel to Washington, D.C., to meet with museum staff and fellows and make an informal presentation.
Smithsonian American Art Museum Fellowships in Washington, D.C.
These one-year residential fellowships at the Smithsonian American Art Museum support full-time independent and dissertation research by scholars from abroad researching historical American art (pre-1980) or by U.S. scholars, particularly those investigating international contexts for American art. Predoctoral fellows receive $30,000, plus research and travel allowances; senior or postdoctoral fellows receive $45,000, plus research and travel allowances.
Terra Summer Residency Fellowships in Giverny, France
Each summer, the Terra Foundation for American Art offers ten residential fellowships for emerging artists and predoctoral scholars in a setting rich in art historical significance. Since 2001, the Terra Summer Residency has provided fellows with the opportunity to pursue individual work and research within a framework of interdisciplinary exchange and cross-cultural dialogue. In addition to working collaboratively, fellows interact regularly with invited senior advisors and guest lecturers—established international artists, curators, and professors in the field of American art. The program supports the creative and research projects of the residents, inspiring them to reflect on cultural interpretive models and encouraging them to create an intellectual network for lifelong exchange.
To learn more, please visit terraamericanart.org/fellowships.