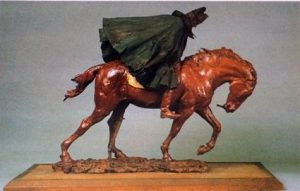 Clay matters (Hasselt, 16-18 Nov 17)
Hasselt (Belgium), PXL-MAD, November 16 – 18, 2017
Deadline: Jun 30, 2017
Call for Papers
Clay matters. Thinking and exhibiting matter in recent art
Organised by PXL-MAD, Department of Ceramics/ Fine Arts; research group MANUFrACTURE, Faculty of Architecture and Arts (Hasselt University); research group ThIS – The Inside Story. Art, interior design and architecture (Ghent University & VUB, Brussels)
Ever since ancient times, clay has played an important role in the history of the visual arts. Clay is the material that shaped the visual imagination of many civilisations, from the Chinese ceramics, Etruscan statues and Delft pottery to the ceramic sculptures of Paul Gauguin and
Pablo Picasso. With the advent of conceptual art in the 20th century, this material lost its original impact. Further, under the global digital turn since the 1990's, with a fast exchange of virtual images,
the use of clay and other ceramics has seriously attenuated. Generally speaking, art history and artists have long subordinated the crafts to the fine arts, and hand-made craftsmanship to an immaterial visual invention. Yet, a renewed interest in matter, craftsmanship, and the
tactile has recently enjoyed a growing acclaim. Imagining and representing the world while touching concrete materials fosters challenging creative skills, like concentration, imagination and visual
representation. In this context, a growing number of contemporary artists have returned to the exploitation of clay, porcelain and other ceramics.
The planned symposium and exhibition to be held at PXL-MAD in Hasselt aim at discussing the common ground between ceramics and contemporary art, the fruitful relation between ceramicists and other visual artists, as well as the role and relevance of clay in art today. In a
two-day international conference, we aim to provide a plethora of comprehensive art historical and conceptual answers to the following questions: what makes the contemporary use of clay so appealing and so different from previous periods? How can the fragile and tactile craftsmanship of clay increase current artistic forms? How can traditional materials and techniques affect the public's sensibility for visual arts?
Confirmed keynote speakers are:
– Prof. dr. em. Herman Parret (KU Leuven, Institute of Philosophy), author of 'La main et la matière. Jalons exemplaires d'une haptologie de l'oeuvre d'art (Editions Hermann, 2017)', an upcoming history of aesthetics from the point of view of the tactile sense
– Ranti Tjan, director of European Ceramic Work Centre in Tilburg (NL)
– Eylem Aladogan, Dutch Installation artist and sculptor, Head of Department Ceramics at the Gerrit Rietveld Academie Amsterdam (NL)
– Grace Schwindt, German Artist based in London, represented by Gallery Zeno-X (Antwerp, B)
We invite proposals for 20-minutes presentations (or shorter performances) that handle these matters in a textual or visual way, from a wide range of disciplines, including the visual arts, art
history, art criticism, philosophy, anthropology, and other, from professionals at art schools, universities and museums, to independent artists, and others. Please indicate clearly whether you plan a lecture or a performance (for the latter include the time, space and attributes needed) and describe precisely the subject and questioning of your contribution.
Possible topics may include but are not limited to:
– How important is the medium of clay today?
– The potential of using clay in contemporary visual arts and design.
– Why are contemporary artists and designers attracted by clay again?
– How can the artistic and social value of craftsmanship change by means of new approaches to clay and ceramics?
– What is the social significance of manual artistry in the current art world?
– The conceptual versus the manual/ the tactile in ceramics today.
– How and why are ceramics surfacing within the contemporary arts today?
– Are ceramics yet well integrated into contemporary art? How do the fields of ceramics, crafts and contemporary art relate to each other?
– What's the potential of the cross-fertilization between ceramics and contemporary art /the role of ceramics today?
– Why and how teaching ceramics in art schools nowadays?
-…
Please send your proposal (= abstract of max. 400 words + 1 image + short bio (no cv) + for performance proposals: a short video) to bert.willems@uhasselt.be before 30 June 2017.
Scientific Committee: Felicity Aylieff (Royal College of Art, Ceramics and Glass); Marieke Pauwels (PXL-MAD, Hasselt University); Vlad Ionescu (Hasselt University); Andrew Livingstone (University of Sunderland/ School of Arts, design, Media and Culture); Frank Louis
(Kunstuniversität Linz/ Institut für Kunst und Gestaltung); Lut Pil (LUCA School of Arts, Ghent); Anton Reijnders (Gerrit Rietveld Academy (BFA) Amsterdam); Marjan Sterckx (Ghent University, ThIS); Ranti Tjan (Sundaymorning@ekwc – the European Ceramic Work Centre, the Netherlands); Bert Willems (PXL-MAD, Hasselt University); Monica Gass (Keramikmuseum Westerwald), Caroline Coolen (PXL-MAD)
Organising Committee: Vlad Ionescu (Hasselt University, Faculty of Architecture and Arts); Marieke Pauwels (PXL-MAD, Hasselt University); Marjan Sterckx (Ghent University, ThIS); Bert Willems (Hasselt University and PXL-MAD).