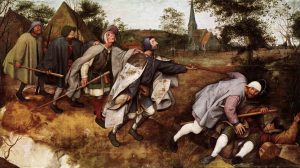 Historians of Netherlandish Art Conference (Ghent, 24-26 May 2018)
Ghent, HNA Conference
Deadline: May 15, 2017
[1] Bruegel's Politics
Among the most unforgettable lines from Karel van Mander's biography of Pieter Bruegel the Elder are those that concern the artist's final hours. Bruegel, on his deathbed, asked his wife to burn some of his works "either because he was sorry or because he was afraid that on their account, she would get into trouble or might have to answer for them." The implication that Bruegel produced a body of images of a polemic if not overtly political nature has long haunted scholarship on the artist.
Many past interpretations in this vein have been heavy-handed in approach, often forcing Bruegel into positions that his surviving works—in their subtlety and ambiguity—do not readily allow.
Nonetheless, the fact remains that Bruegel witnessed the turbulent and seminal first years of the Dutch Revolt, and that he would have had good reason to fear the indictments of the Spanish Inquisition on behalf of his family. As we approach the 500th anniversary of Bruegel's death in 1569, there is no better time to reconsider how the most momentous historical event of the artist's lifetime may have left its marks on his oeuvre. This session welcomes papers that grapple seriously with the political circumstances of Bruegel's later years and propose new avenues for considering how those circumstances may have inflected either the works that he produced or the reception of his works by subsequent artists.
This session will take place at the Historians of Netherlandish Art conference in Ghent, May 24-26, 2018. HNA membership is required of all speakers participating in the conference.
Please send an abstract (up to 500 words) and CV to:
Marisa Anne Bass, Yale University (marisa.bass@yale.edu) ANDEthan Matt Kavaler, Victoria College, University of Toronto, (matt.kavaler@utoronto.ca)
Please indicate if you are submitting proposals to more than one session at the HNA conference.
DEADLINE: May 15, 2017
[2] Utensils in Art: The Object as an Artist's Model and the Domestic
Utensil as Decorative Arts
Netherlandish paintings from the sixteenth and seventeenth centuries often display scenes from everyday life. These works contain a wide variety of common utensils, which are often an exact match with archaeological finds and surviving objects. In some cases the utensils are used to represent a proverb. Vice versa, the iconography we know from paintings, was not only reserved for 'high' arts, but topics like the peasants' wedding also found their way to stoneware jugs.The ALMA database of Museum Boijmans Van Beuningen is an interactive database that links depictions of pre-industrial objects, dating from the late Middle Ages to the nineteenth century, in paintings and prints to examples of similar material objects. For example, when we take a look at paintings by Pieter Aertsen, Pieter Bruegel the Elder, Rembrandt van Rijn and Johannes Vermeer, the objects are painted so realistically that the ceramic utensils can be attributed to a specific pottery center by their specific design and typology. Some pewter tankards are even called Rembrandt-tankard due to their appearances on paintings by Rembrandt. Later copies, however, lack the realistic
images of utensils, probably because the painters did not see the original, obsolete objects. There are also objects depicted that can be linked to the patron of a painting. Probably, he wanted his valuable possession to be part of the scene.Utensils can be richly decorated, like table bells, vessels, jugs, plates, hearth tiles, etc. From paintings and archaeological remains we know that peasants made use of earthenware from Raeren and other potteries in that area. It must have been strange for them to be the topic of some Raeren jugs used by the upper class, which show peasants dancing like we know from paintings by Bruegel and prints by Sebald Beham and Albrecht Dürer. And there are more similarities in iconography between the 'high' and 'low' arts. Recently, researchers also have looked at the choice of iconography for a specific room, area or class. There are dining rooms where the iconography shows diner parties and kitchen scenes.
We welcome submissions that will bring up new insights about the domestic object as an artist's model, and domestic utensils as decorative arts.
Please send in a preliminary title, an abstract (max. 250 words) and a short bio (max. 100 words) to dongen@boijmans.nl or l.timmermans@rijksmuseum.nl by May 15, 2017. If you submit a proposal to more than one session, you should notify the chairs in advance. Only papers that are unpublished and not previously presented will be considered. Speakers must be HNA members at the time of the conference.
The conference language will be English.
Panel chairs:
Lucinda Timmermans – Junior Curator, Rijksmuseum Amsterdam
Alexandra van Dongen – Curator, Museum Boijmans Van Beuningen
Rotterdam, and Curator of Exhibitions, Wereldmuseum Rotterdam
(http://collectie.boijmans.nl/en/research/alma-en)