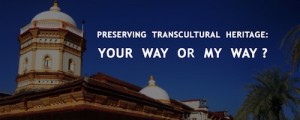 The ARTIS – Institute of History of Art, School of Arts and Humanities of the University of Lisbon — and the ICOMOS Portugal are pleased to invite all the researchers, specialists and other stakeholders involved in the process of safeguarding of architectural heritage created in the meeting of cultures, to participate in the International Congress  Preserving transcultural heritage: your way or my way ?, which will take place in Lisbon , between 05 and 08 July 2017 .
Paper proposals are welcome until 31 August 2016.  Please submit your paper or poster by sending the proposal to the email congress.artis@letras.ulisboa.pt (see the submission guidelines below).
The proposals will be selected by the session organisers and the Scientific Committee on the basis of the following criteria: relevance, innovation, scientific quality and theme of the session. On 15 September proposers will be notified regarding acceptance of their paper or poster and will receive further instructions.
The organisation encourages multidisciplinary and international research on the safeguarding of transcultural heritage (architecture, urbanism, archaeology, landscapes and decorative arts in built heritage).

Sessions
Session 1:  Heritage values and management of African and American historic cities and sites with European influences
Session 2:  Transcultural heritage, musealisation and memory: preservation of the Indigenous minorities' heritage in Americas and in the Pacific region formerly under Western rule
Session 3:  Contextualizing the (un)wanted: tourism and management of the architecture of totalitarian regimes in Europe
Session 4:  Globalisation as generator of new transcultural heritages: preserving migrants' architectural heritage
Session 5:  Greeks, Romans and Byzantines in the Mediterranean region and Near East: guarding transcultural remains containing ancient classical influences
Session 6:  Preserving shared heritage along the Silk Road, a major creator of cultural encounters
Session 7:  Memories to remember and (not) forget: slaves' heritage outside their homelands
Session 8:  The "Indian melting pot" for religions and cultures: challenges concerning transcultural heritage preservation
Session 9:  West versus East: differences and difficulties to the conservation of their shared heritage (European colonies in Far East / "Asiantowns" in the West)
Session 10:  The discovery of ancient cultures: safeguarding of native architectural heritage in European colonies
Session 11:  Religious, political and ideological fanaticisms as destroyers of "different" heritages throughout History
Session 12:  European heritage as Imperialist statements in colonies: (un)desirable memories whish must be protected or to be forgotten?
Session 13: Between Far East and the Indian Sea: Indochinese and Insulindian cultures (influences, fusions and heritage safeguarding)
Session 14:  The Ottoman Empire in the crossroad between Europe, Asia and Africa: fusion of cultures and heritages to preserve
Session 15:  Questions, controversies, idiosyncrasies and case studies on authenticity between different cultures, when focusing the safeguarding of transcultural architectural heritage
Session 16:  Should be followed or ignored? Reception of European heritage theories within non-Western cultures
Session 17:  Safeguarding of architectural heritage belonging to ethnic and religious minorities inside countries with dominant cultures
Session 18: Other relevant themes

SUBMISSION GUIDELINES
Download the submission template and fill it with the following data:
Paper 

Name of the session (only for papers)

Title of the paper, with 15 words maximum;

Abstract with 250 words maximum;

Three to five keywords;

Personal data (name, professional affiliation, mail and email addresses, and telephone contact of the authors);
The acceptance notification for submitted papers and posters will be known by 15 September 2016. After being accepted, preliminary versions of paper texts and poster drafts should be submitted until 30 November 2016, for peer-review.
Researchers can submit simultaneously a paper and a poster, but only with different subjects (paper and poster cannot be both about the same subject). Therefore, it must be submitted an abstract for each proposal.
For further questions, please contact the organisation :  congress.artis@letras.ulisboa.pt