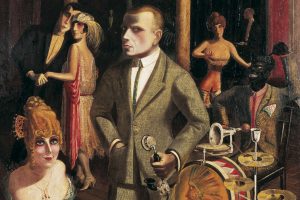 Realism movements in Europe in the 1920s and 1930s (Chemnitz, 22-23 Mar 23)
Museum Gunzenhauser, Chemnitz, 22.–23.03.2023
The city of Chemnitz will be European Capital of Culture in 2025. In this context, a major exhibition project on European Realism movements will take place at the Museum Gunzenhauser in 2025. With the symposium « European Realities » our aim is to bring together European research on the respective national Realism movements in fine arts.
With a focus on painting, the European Realities project is dedicated to the many different European Realism movements throughout nearly all of Europe (and even in the USA) in the 1920s and 1930s. The project addresses the issues of poverty, starvation and misery, and about the modernisation of industry. It reports on the economic upswing and cultural boom, on scientific and technical progress, on the big city and nightlife, on emancipation and diversity. This period in European art has never been presented on such a scale: the project not only includes the well-known movements in Italy, France, Germany and the USA that characterise this period, it also features artists from northern, eastern and south-eastern European countries who captured the spirit of the 1920s and 1930s impressively in their works.
The upheavals of the First World War were key to the shift towards Realist art. For Europe, the "Great War" marked an epochal turning point. The War traumatised Europe and destroyed great empires. In art, reality was captured in images reflecting the present and emphasising the object. Realist movements emerged and lasted until the 1930s, as the political situation deteriorated with the establishment of totalitarian regimes. The European Realism movements, however, were not superficial reactions to contemporary taste; rather they arose from a world out of kilter that found artistic expression in reality-oriented art. There can be no doubt, however, that all these artistic movements – with a shared fundamental tendency – benefited from the restorative atmosphere that corresponded, above all in European countries, to a widespread and deeply felt need. What the European movements had in common was a desire to return to an art that, behind the depiction of reality, rendered the existential fears and endangered ideals of the 20th century visible. The project also pays special attention to the means by which the Realism movements spread throughout Europe: the circulation of ideas and artist networks within Europe.
We invite contributions dealing with the individual national Realism movements or to relevant issues of the interbellum in fine arts, such as emancipation, technical progress, diversity, nationalism, sports, poverty, etc., from a European perspective.
We seek a variety of papers that collectively encompass a European scope.
The symposium will be held in German and English. Depending on the Covid-19-situation, the symposium may take place in a hybrid format. Travel expenses of speakers will be reimbursed.
Please submit your proposal by 15 October 2022 to anja.richter@stadt-chemnitz.de. Submissions should include a 250-word abstract, a title, and should be accompanied by a short CV and full contact information.