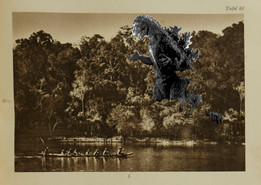 Annual VKKS conference: Imaginaries of the Landscape. Media, Materials, Makers
Annual conference of the Swiss Association of Art Historians (VKKS | ASHHA | ASSSA) in cooperation with the Comité International d'Histoire de l'Art (CIHA), and the University of Geneva.
The impetus for this conference came from the ever-increasing interest in landscape not only in art and art history but also in several other disciplines (anthropology, environmental science, geography, literature, philosophy). At the same time landscape, with its fraught relationship to nature, has become an increasingly complex and ambiguous term. Rather than aiming at a synthesis, this conference is designed to provide a forum for exploring various approaches to the art and architecture of landscape in various media at diverse places and moments in history.
The registration is binding (for catering). Participation is free of charge. Please register until 23 April 2023.
THURSDAY, 4 MAY UNIVERSITÉ DE GENÈVE, BÂTIMENT COLLADON, C1/C2
09:15 Registration
09:45 Welcome and Introduction
Marie Theres Stauffer, Université de Genève / CIHA, Christine Göttler, Universität Bern / CIHA, and Marianne Burki, President VKKS / TaDA Textile and Design Alliance, St.Gallen
SESSION I: RECONFIGURING THE LANDSCAPE
Chair: Jean-Marie Guillouët, Université de Bourgogne / CIHA
10:15 "Why do painters actually paint when nature exists?" (Thomas Bernhard, Alte Meister, 1985)
Andreas Beyer, Universität Basel / CIHA
11:00 Coffee Break
11:30 Raphael's Landscape between Ethics and Aesthetics
Marzia Faietti, Kunsthistorisches Institut in Florenz – Max-Planck-Institut / Co-President CIHA
12:15 Changing Perspectives on Landscape: An Indian Narrative
Anupa Pande, National Museum Institute of History of Art, Conservation and Museology, India / CIHA
13:00 Lunchtime
SESSION II: DESIGNING OTHER WORLDS
Chair: Henri de Riedmatten, Université de Genève
14:30 The Concept of "Wilderness" in Early Modern Portuguese Landscape Design
Nadja Horsch, Universität Leipzig
15:15 In Diana's Realm: The Interplay between Architecture and the Hunting Garden in the Amalienburg
Marie Theres Stauffer, Université de Genève / CIHA
16:00 Coffee Break
16:30 Amalgamating Desire: The Transformation of the Antwerp Riverbank, April and May 1635
Christine Göttler, Universität Bern / CIHA
17:15 Aperitif
KEYNOTE LECTURE Université de Genève, Bâtiment des Philosophes, PHIL 211
18:30 From Frozen Water to Wax and Honey: Architecture as Nature in the Renaissance
Alina Payne, I Tatti | The Harvard University Center for Italian Renaissance Studies, Cambridge
Chairs: Christine Göttler, Universität Bern / CIHA, and Marie Theres Stauffer, Université de Genève / CIHA
FRIDAY, 5 MAY UNIVERSITÉ DE GENÈVE, BÂTIMENT COLLADON, C1/C2
09:45 Welcome and Registration
SESSION III: PERFORMING NATURE
Chair: Bérangère Poulain, Université de Genève
10:15 Denilson Baniwa's Archaeology of Landscapes: Confronting Ethnographic Photography and Film in the Amazon
Claudia Mattos Avolese, Tufts University, Boston / Co-President CIHA
11:00 Coffee Break
11:30 Elephant Encounters: Architects, Agents, and the Landscapes of Tea in India
Romita Ray, Syracuse University, New York
12:15 "Lesser Elegant Designs": Marc-Théodore Bourrit, the Arts of Nature, and the Alpine Landscape
Rebecca Zorach, Northwestern University, Evanston
13:00 Lunchtime
SESSION IV: IMAGINING FUTURITIES
Chair: Quentin Béran, Université de Genève
14:30 In Search of Geographical Re-enchantment
Robin Winogrond, Landscape Architect / Urban Designer, Zurich
15:15 The Garden as Sanctuary, the Brownfield as the Compromised Site: Imaginaries of Purity and Contamination in Contemporary Ecological Concepts
Peter J. Schneemann, Universität Bern
16:00 Coffee Break
16:30 Concluding Discussion
LOCATIONS
UNIVERSITÉ DE GENÈVE BÂTIMENT COLLADON
Rue Jean-Daniel-Colladon 2, 1204 Genève
UNIVERSITÉ DE GENÈVE BÂTIMENT DES PHILOSOPHES
Boulevard des Philosophes 22, 1205 Genève
Further Information
https://www.vkks.ch/de/aktivitaeten/tagungen
Registration
Please register until 23 April 2023
https://www.vkks.ch/de/aktivitaeten/tagungen
Concept and Organization
Prof. em. Dr. Christine Göttler, Universität Bern / CIHA Titular Member Switzerland; Prof. Dr. Marie Theres Stauffer, Université de Genève, Unité d'histoire de l'art / CIHA Bureau Member
Contact
Catherine Nuber
General Secretariat VKKS
info@vkks.ch
VKKS
Pavillonweg 2, CH-3012 Bern
THE CONFERENCE IS SUPPORTED BY
SAGW | ASSH