Call for Applications, International Summer School « Rock Crystal », Cologne, 7th-14th Sept. 2021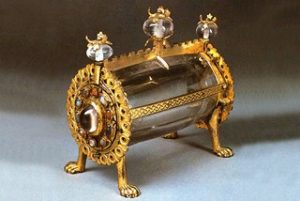 This summer school in Cologne takes up the current interest in art historical research in the materials of art and focuses on a particularly fascinating material: rock crystal. Owing to its transparency and crystalline structure, rock crystal is artistically attractive, but it is difficult to work due to its great hardness. While there are several deposits in Europe, larger translucent pieces of rock crystal were quarried from antiquity onwards above all in Madagascar. Through long-distance trade they were transported via Egypt, where workshops specialized in the working of rock crystal were located, and via the Arabian Peninsula to the Mediterranean world as well as to India. Like gems, rock crystal can be cut and in this way become a transparent carrier of images. The optical refraction of rounded, cabochon-shaped rock crystals can enlarge objects positioned below them, but it can also make recognizing them more difficult due to distortion. The distant origins, the difficulty of manufacture and the particular effects made rock crystal objects into precious items which were (re)used in very different contexts. In natural history, religious texts and images, the precious material was frequently discussed and interpreted, symbolically charged and made into a bearer of meaning.
The program of the summer school combines seminar meetings in the mornings, which focus on the value and availability of the material, its social role and power (agency), with examination as a group of rock crystal objects in church treasuries and museums in Cologne in the afternoons. This is possible thanks to close collaboration with the Museum Schnütgen and the Erzbischöfliches
Generalvikariat (General Vicariate of the Archdiocese of Cologne). Excursions on the weekend will take participants to other regional collections with rock crystal objects (Siegburg, Solingen-Gräfrath, Essen). Thus, a wide array of different artworks can be analyzed on site and together in the group with a view towards their form, use and aesthetic properties.
Alongside art historians from Cologne, Düsseldorf, Bochum and Paris, experts from different disciplines (such as archaeology, Byzantine studies, economic history and German philology) will participate in the summer school, bringing together a variety of questions, issues and perspectives.
Following the summer school, an international conference on the topic "rock crystal" will take place at the Museum Schnütgen from 15.-17.9.2021. The participants of the summer school are cordially invited to participate in the conference. In order to do so, they may apply for an extension of their travel grant.
Program and teaching personal: https://bit.ly/3zmmkd7
Applications: The summer school is aimed at advanced bachelor's and master's students as well as doctoral students in the field of art history. Please submit your curriculum vitae and a cover letter outlining your motivation to participate (1-2 pages in length) to Prof. Dr. Susanne Wittekind (susanne.wittekind@uni-koeln.de) by 20th June 2021.