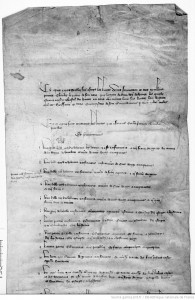 Speaker(s): Charles Burnett (Warburg Institute), Joanna Cannon (The Courtauld Institute of Art), Donal Cooper (University of Cambridge), Philippe Cordez (Ludwig-Maximilians-Universität, Munich), Stefania Gerevini (The Courtauld Institute of Art), Valentina Izmirlieva (Columbia University), Tom Nickson (The Courtauld Institute of Art), Judith Pfeiffer (University of Oxford), Giacomo Todeschini (University of Trieste)
Ticket/entry details: £10 (£5 students, Courtauld staff/students, concessions). BOOK ONLINE: or send a cheque made payable to 'The Courtauld Institute of Art' to: Research Forum Events Co-ordinator, Research Forum, The Courtauld Institute of Art, Somerset House, Strand, London WC2R 0RN, stating your full name and 'Architectures of Knowledge'. 
Organised by: Drs Stefania Gerevini and Tom Nickson (The Courtauld Institute of Art). Funded by The Courtauld's Research Forum and the Economic History Society
The technological transformations brought about by the Internet have given unprecedented political, social and economic relevance to questions of management, transmission and organisation of knowledge. They have focused public attention on the importance of the correct and secure preservation of information, and on the imperative for efficient measures against misuse. These have become matters of great concern for public bodies and for the civic and political community at large. But are these concerns entirely new?
This interdisciplinary workshop examines a particular (and particularly widespread) form of organisation and preservation of knowledge in the pre-modern Mediterranean: inventories. Looking beyond the function of medieval inventories as lists of objects, our workshop will explore their historical, legal and epistemological complexity in the Christian and Islamic Mediterranean. Our speakers will reflect upon the different textual and visual formats of medieval inventories, their physical appearance and organisation, and the different ways in which they referred to and provided information about objects and collections. What were the legal, economic and social functions of inventories, and what connections can be traced between practices of inventory-making and broader epistemological developments in the later Middle Ages? Ultimately, this workshop aims to explore the ways in which inventories contributed to produce, organise and transmit knowledge, and the ways in which they operated (together with the objects that they recorded) to maintain or undermine social, religious and political order.
10.45 – 11.15: Registration
11.15 – 11.30: Introduction
Stefania Gerevini (Courtauld Institute) and Tom Nickson (Courtauld Institute)
11.30 – 12.00: Charlemagne and the Saints: Hierarchy in Latin Relic Inventories
Philippe Cordez (Ludwig-Maximilians-Universität, Munich)
12.00 – 12.30: The New Sciences and their Books in the Twelfth and Thirteenth Centuries
Charles Burnett (Warburg Institute)
12.30 – 12.45: Discussion
12.45 – 14.00: Lunch (provided for speakers only)
14.00 – 14.30: Abundance, scarcity, poverty, wealth: the notarial inventories as a textual mirror of economic and theological discourses on the common good (Italy, 13th-14th
centuries)
Giacomo Todeschini (University of Trieste)
14.30 – 15.00: 'Fiat unum librum inventarium de omnibus notabilibus loci…': Sacristy inventories as sources for Franciscan art and architecture
Donal Cooper (University of Cambridge)
15.00 – 15.15: Discussion
15.15 – 15.45: Tea for all
15.45 – 16.00: Order in the Sacristy: The Dominicans of Lucca in 1264
Joanna Cannon (Courtauld Institute)
16.00 – 16.15: Inventorying medieval Venice
Stefania Gerevini (Courtauld Institute)
16.15 – 16.30: Memory and Invention: the medieval inventories of Toledo cathedral
Tom Nickson (Courtauld Institute)
16.30 – 17.00: The inventory of Rashid al-Din
Judith Pfeiffer (University of Oxford)
17.00 – 17.30: Discussion
18.00 – 19.00: Keynote lecture: The Inventory Trope
Valentina Izmirlieva (Columbia University)
19.00 – 19.30: Drinks reception
http://www.courtauld.ac.uk/researchforum/events/2014/summer/may15_ArchitecturesofKnowledge.shtml