Trinity College in Paris; Executive Director, Paris, France
Trinity College, Hartford, Connecticut, USA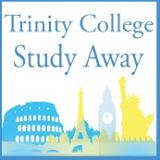 Trinity College seeks applications for a dynamic, academic professional for a full-time, 12 month position as Executive Director of the Trinity-in-Paris Study Abroad Program in Paris, France. The Executive Director reports to the Director of the Office of International Programs of Trinity College in Hartford, Connecticut. The Executive Director in Paris works closely with the Office of International Programs staff, the Program's Faculty Director in Hartford, and the Trinity-in-Paris Faculty Steering Committee. S/he will also work very closely with the Trinity-in-Paris On-Site Administrative Director.
Trinity-in-Paris has been in operation since 2006 and is located in central Paris in the St-Germain des Près quartier. The program operates during regular academic semesters and hosts 20 to 35 students per semester (some for the full year) taking liberal arts courses taught in English and in French. Courses are offered in art history, history, French language and literature, English literature, political science, music history and sociology and are designed to take maximum advantage of the Parisian, French and European setting. Students also have the opportunity to take one or two classes at a local partner university.
The Director will serve as an instructor and be responsible for the comprehensive academic oversight of the program, faculty development and evaluation, and special programming, including academic excursions. The Executive Director will coordinate and monitor the academic rigor, content, and quality of courses on-site in consultation with the Faculty Director and the Paris Faculty Steering Committee in Hartford.  The Executive Director will be responsible for teaching 2 courses per term in his or her academic discipline. The Executive Director will serve as a liaison with Trinity's partner institutions and academic internships or field studies for credit and arrange and monitor these placements, overseeing their academic component.
The Executive Director must have EU citizenship or permanent residency and authorization for full-time employment in France, must have complete fluency in English and French, and must hold a PhD or its equivalent and a record of teaching experience. The Director must demonstrate strong administrative and managerial skills. S/he should have firsthand experience in working with or studying at an American institution of higher learning, have knowledge of American undergraduates and the US educational system, and of study abroad programs and their administration.
Art Historians are particularly encouraged to apply.
The anticipated start date for this position is January 1, 2014. Candidates should send a resumé and letter of interest in English by October 30, 2013 to: Lisa Sapolis, lisa.sapolis@trincoll.edu, Director, Office of International Programs, 66 Vernon Street, Hartford, CT, 06106, USA. More detailed information on the duties and responsibilities will be provided upon enquiry. A list of at least three recommenders and their contact information should be provided with the letter of interest.
Applications will be considered on a rolling basis with an application deadline of October 30, 2013.
Requirements:
•          French citizenship or authorization to work in France.
•          PhD or equivalent experience in an academic subject that is taught on the Trinity-in-Paris program.  Art Historians are particularly encouraged to apply.
•          Previous experience teaching at the college level in an academic subject that is taught on the Trinity-in-Paris program.
•          Oral and written language fluency in French and English.
•          Experience working with the U.S. system of higher education and in living, studying, or working in the U.S. and in France.
•          High degree of cross-cultural competency and bi or multi-cultural experience.
•          Demonstrated high level of knowledge of U.S. culture and the U.S academic system.
•          Previous experience working with U.S. undergraduate students.
•          Previous professional experience in study abroad strongly preferred.
•          Excellent written and oral communication skills
•          Excellent people skills and high level of enthusiasm and flexibility.
•          Strong organizational and leadership skills and ability to multi-task, successfully problem-solve, and work in a highly cooperative partnership with colleagues and students.
•          Strong familiarity with the city of Paris
•          Existing network in academic, cultural organizations and professional groups in Paris strongly preferred.
•          Strong crisis management skills
•          Ability to deal with emergency situations in a highly professional, sensitive, and timely manner.
•          Knowledge of Excel, Word, Publisher, and other basic computer programs.
•          Strong managerial and supervisory skills.
The Executive Director will be responsible for comprehensive administrative oversight of the program. S/he will supervise the full time On-Site Administrative Director to aid in the provision of these services, which include the following:
•          Provide students on the program with strong ongoing academic, personal, and administrative support and assistance needed to complete program successfully.
•          Liaise with the Centre des Echanges Internationaux (CEI), Trinity host institution, on services they provide to the program, including the rental of the space, the payment of fees, excursions, activities, etc.
•          Provide 24/7 emergency coverage and support for Trinity students studying on the program.
•          Assist students with health and safety concerns and liaise with Trinity in Hartford, HTH insurance, parents, and other appropriate parties.
•          Communicate all health, safety, academic, and personal concerns to Trinity in Hartford immediately if a student is the victim of a crime or must be taken to a hospital due to illness or injury; communicate updates as soon as new information becomes available.
•          Submit incident reports to the OIP within 48 hours of any incident (theft, disorderly conduct, illness, etc.)
•          Ensure the coordination of services provided by Paris Academic Rentals and payment for student housing in local apartments and with homestay families.
•          Ensure the successful implementation of the arrivals/orientation program managed by the On-Site Administrative Director of students each semester.
Conduct the academic portion of the orientation each semester, including excursions in the city, information on cultural differences, and academic/course information.
•          Oversee course enrollments and communication of final enrollment information and grade reports by the necessary deadlines.
•          Meet with students on a regular basis to review academic and personal progress; address any issues with the OIP in Hartford and the Faculty Director for the program. Work to resolve any problems, as needed.
•          Coordinate ongoing academic excursions and cultural activities for the program and oversee the coordination of academic excursions and activities for each class.
•          Coordinate and lead two extended excursions during the semester outside of Paris, several shorter excursions.
•          Coordinate welcome and farewell dinners, as well as a mid-semester group event.
•          Ensure acceptance letters needed to process student visas are submitted to Trinity in Hartford and assist students with any immigration paperwork needed in Paris.
•          Serve as the primary contact person for Trinity-in-Paris on-site, liaising as appropriate with students, parents, and other parties.
•          Provide academic and administrative assistance to Trinity faculty in residence.
•          Administer the program budget and ensure that t necessary financial reports and reconciliations are submitted to Trinity College in a timely manner.
•          Manage the Trinity-in-Paris program space in cooperation with the CEI, ensuring that it is well-maintained and supplied.
•          Ensure the implementation of the buddy and peer mentor programs by the On-Site Administrative Director.
•          Schedule and welcome visitors (faculty and staff from Trinity and other institutions, etc.) to the program.
•          Maintain a high level of professionalism and abide by FERPA and HIPPA policies required by U.S. law.