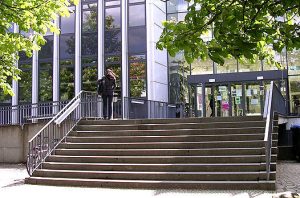 University Professor of Early Modern Art History, with a Focus on Italian Art and Art Theory
Department of History and Cultural Studies, Art History Institute (WE2)
Salary grade: W2 or equivalent
Reference code: W2KGFrNZ
Application deadline: 18.10.2021
The successful applicant will cover research and teaching in the field of art history in the Early Modern period with a focus on Italian art and art theory.
Appointment requirements are governed by Section 100 of the Berlin Higher Education Act (Berliner Hochschulgesetz).
In addition, candidates should hold a doctorate in art history, and demonstrate outstanding knowledge of the visual arts and theory of art in Italy in the Early Modern period. The appointee should also be engaged in work related to current debates in cultural studies, including theoretical debates and questions of methodology. They should have experience with interdisciplinary projects and research settings. Candidates should be able to demonstrate internationally visible, outstanding research activities and teaching at the university level, including experience in acquiring and leading externally funded research projects. They must be proficient in written and spoken Italian, and have excellent knowledge of German and English enabling them to teach in both languages.
Along with the regular official duties of professors listed in Section 99 of the Berlin Higher Education Act, we expect the appointee to engage in the following activities:
The new professor will be expected to actively participate in the other regional research areas at the Art History Institute and at the Center for Italian Studies at Freie Universität Berlin. They should also contribute to the work being done through collections, museums, and research institutions here in the Berlin area (e.g., the Staatliche Museen zu Berlin, etc.). They should also support research initiatives in the humanities at Freie Universität, Gender sensitivity and diversity sensitivity in teaching, research, and administration.
Also see: https://www.fu-berlin.de/universitaet/beruf-karriere/jobs/english/GK–W2KGFrNZ-E.html
Applications should include a CV, copies of all certificates of academic qualification in German or English; a list of publications, a list of courses previously taught, and evidence of teaching aptitude. Please include information on involvement in ongoing and future research endeavors, joint research projects, externally funded projects and, if necessary, please include language certificates. If applicable, please give information on partnerships with industry, inventions/patents, and spin-offs.
Please submit all application materials electronically as one PDF file (maximum 5 MB) by October 18th, 2021. Be sure to include a personal postal address and email, as well as the reference code for the position. For formal purposes, (i.e., for formatting application documents), you may use the following postal address, but please send your application to the e-mail address below:
Freie Universität Berlin
Fachbereich Geschichts- und Kulturwissenschaften
Dekanat
Heike Willingham
Fabeckstraße 23- 25
14195 Berlin
E-mail: bewerbungen@geschkult.fu-berlin.de.
Application documents will be deleted from our servers after the legal retention period has lapsed.
Application guidelines, general information on the appointment procedure, appointment requirements for professorships at Freie Universität Berlin, and the regulations defined by the Berlin Higher Education Act that are relevant to professorships (Sections 99, 100, 101, 102a, 102c BerlHG) can be found online: http://www.fu-berlin.de/bbs.
On the given occasion and for the duration of the essential on-site operations by Freie Universität Berlin, we kindly ask you to apply electronically by e-mail. The processing of a postal application cannot be guaranteed.
With an electronic application, you acknowledge that FU Berlin saves and processes your data. FU Berlin cannot guarantee the security of your personal data if you send your application over an unencrypted connection.
Freie Universität Berlin is an equal opportunity employer.