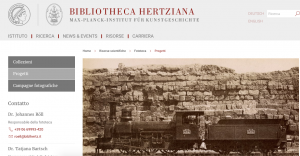 Digital Humanities Scientist, Rome
The Bibliotheca Hertziana – Max Planck Institute for Art History in Rome is a leading center for research in the history of art. As part of its recent expansion into digital and computational research in the humanities, it is looking to recruit a:
Digital Humanities Scientist
The full-time post will be offered for an initial period of two years, with the prospect of becoming a permanent position.
The role includes
– creating and developing new digital research projects, international collaborations and grant proposals
– leading the digital components of research projects across the institute
– actively participating in methodological discussions of the digital humanities in international conferences and in the institute's own scientific programming
– managing the implementation of new, forward-looking technical solutions for the digital humanities
– identifying and developing technical methods and tools for digital scholarship
– training and consulting early-career researchers
The ideal candidate will have
– a PhD (or equivalent research experience), preferably in computer science, digital humanities, art history, visual studies or a related discipline
– strong interdisciplinary research interests, i.e. an excellent technical background and a deep understanding of research questions in the humanities
– experience in the development and management of research projects
– a high degree of organisational, team-working and communication skills
– excellent written and verbal English; some knowledge of German and/or Italian is welcome
We offer
– a highly competitive salary
– payment according to the German labour agreement for public services (TVöD EG 14) in foreign countries if conditions are met for eligibility
– relocation or expatriate allowances if conditions are met for eligibility
– flexible working hours and partial remote working possibilities
– a wide choice of training and career development programs offered by the Max Planck Society
– excellent experience and development opportunities for an academic career, including within the Max Planck Society
– a collaborative working environment at the heart of the Bibliotheca Hertziana's DH Lab; which includes a large-scale digitization project, other Scientists and Postdoctoral Fellows in the Digital Humanities, and full-time DH specialists in the Publications Department, the Library, and the Photographic Collection
– a well-equipped workplace in the historic center of Rome, within easy reach of the train station and airport
– the opportunity to take part in international research projects and collaborations, e.g. through participation in the Consortium for Open Research Data in the Humanities and the Digital Visual Studies research project hosted by the University of Zurich
The Max Planck Society is committed to gender balance and seeks to increase the number of women in areas where they are underrepresented and hence encourages women to apply. It is also committed to increasing the number of employees with disabilities and therefore encourages applications from qualified candidates with disabilities.
The call will remain open until filled. To apply for the position, please upload and submit your application via the institute's recruitment portal. Please include the following in your application:
– your CV
– a cover letter, describing your motivation and personal qualifications
– a description of your past and future research interests
– samples of your research work and/or publications
– names and full contact details of two referees
For administrative queries, please contact Mrs. Brigitte Secchi, Head of Administration, at secchi@biblhertz.it. For academic-related queries, please contact Leonardo Impett, Ph.D., Digital Humanities Scientist, at impett@biblhertz.it.