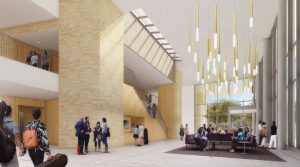 Scholar Fellow in Art History, TCU, Fort Worth
Fort Worth, TX, Aug 01, 2023
Application deadline: Mar 1, 2023
Diversity, Equity, and Inclusion Scholar Fellow.
TCU's School of Art seeks an emerging postdoctoral art historian, with a demonstrated commitment to research and teaching, to join our program in Art History as a DEI Scholar Fellow. The area of specialization is open, but preference will be given to a candidate with a research and teaching focus in any of the following areas: Africa, the Ancient Mediterranean World, Asia, the Islamic World, First Nations, and/or Native North America. We desire a candidate who will complement the current faculty's strengths in the art of the ancient and colonial Americas, early modern Europe from a global perspective, 18th/19th-century Europe, and modern and contemporary art. Candidates whose research utilizes transregional and transhistorical approaches and whose teaching extends across time periods are especially encouraged to apply.
The DEI Scholar Fellow in the College of Fine Art's School of Art will receive:
Participation in the College of Fine Arts faculty mentoring program
Private office space and a computer
Annual research budget to support costs associated with teaching, research, publications, and professional association memberships
The main job responsibilities include, but are not limited to:
Teaching one undergraduate or graduate course per semester in Art History
Establishing a research record to support a pathway to a tenure-track position
Participating in departmental activities, including serving on MA thesis committees
Required Education and Experience:
Ph.D. degree in Art History, Archaeology, Material Culture, Asian Studies, Africana Studies, Native American Studies, Classics, or related fields by the start of the fellowship
Demonstrated teaching experience at the undergraduate level
Demonstrated commitment to diversity, equity, and inclusion through scholarship/research, teaching/mentoring, and/or service and community engagement
Award
The salary is competitive with similar postdoctoral fellowships, and the position includes a generous benefits package including access to medical, vision, dental, and life insurance. This award also includes a fund for research‐related and program travel expenses. Each award is for 12 months and renewable up to two years. This position will begin August 2023.
Application Process:
A cover letter describing your research and teaching interests and experience
A resume/curriculum vitae
A statement sharing how your experiences related to diversity, equity, and inclusion can help to advance TCU's commitment to fostering an inclusive community (two-page limit, single-spaced).
The names and contact information for three academic and/or professional references
apply here: https://jobs.tcu.edu/en-us/job/498358/diversity-equity-and-inclusion-dei-scholar-fellow
All application materials should be submitted online by March 1, 2023.
About TCU
TCU is a leading, private teaching and research institution located about three miles from downtown Fort Worth and 25 miles from Dallas/Fort Worth International Airport. By virtue of TCU's location and resources, opportunities for growth and success as an academic leader are vast. TCU has a unique focus on global learning, an emphasis on multicultural training and participation in inter-professional education. At TCU, inclusive excellence is an educational imperative that is tied directly to our University mission and vision. For the second consecutive year, TCU has earned the Higher Education Excellence in Diversity Award, which highlights our ongoing commitment to build a comprehensive DEI strategy that aligns with our core values and to create a campus culture where everyone is respected and feels included. In addition, the benefits package offered by TCU is one of the best in the country, including substantial tuition benefits for employees and family members.
About the School of Art
TCU's School of Art is a NASAD-accredited program that offers the B.A. and M.A. in Art History, as well as the B.A., B.F.A. and M.F.A. in Studio Art and the B.F.A. in Art Education. The "museum experience" makes the TCU Art History program distinctive. The art history faculty maintains a close working relationship with the art museums in the area, especially the Amon Carter Museum of American Art, the Kimbell Art Museum, the Modern Art Museum of Fort Worth, the Dallas Museum of Art, and the Sid Richardson Museum. Centering on the art object, the program allows students to expand their knowledge of the historical, stylistic, and theoretical dimensions of the visual arts, while having the invaluable experience of engaging directly with art objects.
Source : https://arthist.net/archive/38545