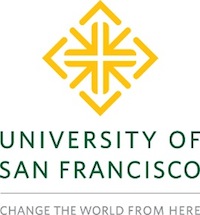 The Department of Art + Architecture at the University of San Francisco invites applications for a full-time, tenure-track position at the level of Assistant Professor in the field of Medieval Art History, to begin August 2016. We seek candidates whose research examines the history of European medieval art, preferably with secondary interests in early Islamic art. The ideal candidate will also possess significant museum or collections experience and/or a background in archaeology, architectural history or cultural preservation.
Teaching Responsibilities include introductory survey classes in the history of Western art (ancient to medieval), first year seminars, and undergraduate, upper-division seminars on topics in early Christian, Byzantine, Medieval, and Islamic art. Pending experience, the successful candidate may also occasionally teach classes related to museum studies at the undergraduate level and/or in the new M.A. in Museum Studies program. The teaching requirement is two classes per semester with a third class every fourth semester (2-2-2-3 over two years). There will also be regular, undergraduate advising responsibilities.
Qualifications include a Ph.D. in Art History with an emphasis in European medieval art at the time of appointment, and a strong record of excellence in research and teaching in the discipline. A secondary specialization in Islamic art of the Mediterranean world (8th-12th c.) is highly desired. Additional museum, archaeology, cultural preservation or architectural history experience is preferred, but not required. The successful candidate will be expected to play an important role both within the Department that includes Bachelor of Arts programs in art history, architecture, design, and fine arts and a Master of Arts program in Museum Studies, and within the College of Arts and Sciences overall. The candidate must also demonstrate a willingness to work in a culturally diverse environment and an understanding of, and commitment to, support the mission of the University.
Applicants should digitally submit their application at https://gnosis.usfca.edu/search. The required documents include: letter of application outlining current and future research interests, statement of teaching philosophy, curriculum vitae and three letters of reference. (Applicants will be asked to submit the email addresses of three referees with their online application. Referees will then be directly sent instructions via email for uploading their recommendations online, or they may submit their letters directly to the search email address below.) All files must be in PDF format. Applications must be received by December 1, 2015. Finalists will be asked to submit a writing sample and dossier, including representative teaching evaluations. We will interview a short list of candidates at CAA in Washington, D.C. in early February. Please direct inquiries to: medievalartsearch@usfca.edu.
The University of San Francisco is located in the heart of one of the world's most innovative and diverse cities, and is home to a vibrant academic community of students and faculty who achieve excellence in their fields. Its diverse student body enjoys direct access to faculty, small classes and outstanding opportunities in the city itself. USF is San Francisco's first university, and its Jesuit Catholic mission helps ignite a student's passion for social justice and a desire to "Change the World From Here." For more information, visit www.usfca.edu.
The University is an equal opportunity institution of higher education. The University does not discriminate in employment, educational services and academic programs on the basis of an individual's race, color, religion, religious creed, ancestry, national origin, age (except minors), sex, gender identity, gender expression, sexual orientation, marital status, medical condition (cancer-related and genetic-related) and disability, and the other bases prohibited by law. The University reasonably accommodates qualified individuals with disabilities under the law.