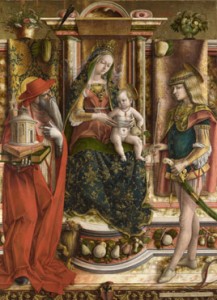 AHRC Doctoral Award on Carlo Crivelli, Oxford Brookes University / National Gallery London
Oxford Brookes University, Faculty of Humanities and Social Sciences Department of History, Philosophy and Religion 3 Year full-time Studentship
Start date: 1 October 2015 Eligibility: Home/EU Fees: Annual Home/EU fees paid Stipend: £14,067
Deadline: The closing date for applications is 17:00 on Friday 15 May 2015.
Interview date: Interviews will be held in the week commencing: 1 June 2015.
Oxford Brookes University, in partnership with the National Gallery, invites applications from suitably qualified UK/EU candidates for a full-time 3-year Collaborative Doctoral Partnership award, funded by the AHRC Collaborative Doctoral Partnership Scheme, to conduct research on the theme: 'The Imagined Made Real: the interaction between sculpture and painting in the work of Carlo Crivelli'.
This PhD research programme will be supervised jointly by Dr Marika Leino at Oxford Brookes and Dr Caroline Campbell at the National Gallery. The PhD will make a focused study of one relatively unstudied fifteenth-century painter whose work was profoundly influenced by sculpture and three-dimensionality: the Venetian Carlo Crivelli (1430/5 – c. 1494). The National Gallery holds one of the two richest collections of his work (the other is the Pinacoteca di Brera, Milan), and it is arguably the most varied and representative group of paintings by Crivelli in existence. This project will allow for a re-appraisal of the interaction, both physical and ideological, between painting and sculpture in fifteenth-century Italy. This research project would build on the shifting paradigms of our understanding of the relationships between the 'real' space of sculpted relief and the imagined space of a painted scene, concentrating on one painter. Crivelli not only depicted sculpture in his paintings, but also used many 3D elements as part of them. This makes his work an ideal candidate for this study.
Eligibility: We are looking to recruit a suitably qualified UK/EU candidate of the highest quality and who is capable of submitting a PhD thesis within 3 years. Applicants are expected to have completed a relevant Masters degree prior to the Studentship start date. Applicants should also be able to demonstrate strong research capabilities and be fluent in spoken and written English. A reading ability of Italian is desirable.
Please note: The award is subject to the AHRC's terms, to which applicants should refer before applying. See the AHRC's Research Funding Guide: http://www.ahrc.ac.uk/SiteCollectionDocuments/Training%20Grant%20Funding%20Guide%202014-15.pdf
Note that overseas students are not eligible for AHRC awards (except under specific circumstances) and EU students need to assess whether they are eligible for fees and maintenance or fees only. Details of current maintenance and fee rates can be found on the 'Current Research Awards' page on the AHRC website (http://www.ahrc.ac.uk/Funding-Opportunities/Postgraduate-funding/Pages/Current-award-holders.aspx
How to apply: To request an application pack and for further details of how to apply, please contact the Research Administrator, Email: chearne@brookes.ac.uk, Tel: +44 (0)1865 484998