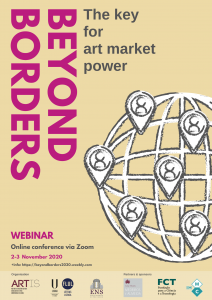 Beyond Borders: The key for art market power conference will take place on Zoom on November 2 and 3, 2020.
Admission is free, but registration is required and is now open. The number of places is limited, so early registration is recommended.
This international conference aims to discuss the generic idea that art market's leaders are those who are able to have a multinational presence. With this in mind, in the call for papers we have urged researchers to reflect upon suppliers and intermediaries who have been able to conquer foreign countries and own several branches of their business. As a result, we hope to push forward the knowledge frontier on the international art market, and specifically on the multinational dimension of leading and less-known suppliers and intermediaries, thus unveiling overlooked strategies and relationships.
CONFERENCE DATE
November 2 and 3, 2020
CONFERENCE PLACE
Online (via Zoom)
CONFERENCE TIME ZONE
UTC (Coordinated Universal Time)
ORGANISATION
Vera Mariz (ARTIS – Institute of Art History, University of Lisbon)
Léa Saint Raymond (École Normale Supérieure Paris)
LANGUAGE
English
ADMISSION
Free
REGISTRATION
Mandatory, by filling the registration form at: https://forms.gle/J1zbfKiLnd2Qj4FF6
REGISTRATION DEADLINE
October 28, 2020
CONFERENCE WEBSITE
https://beyondborders2020.weebly.com/
PROGRAM
Day 1 – 02.11.2020
 14:00 – 14:10  Welcome and opening remarks
Panel 1: Art Market Power in the 18th and 19th centuries
Chair: Elizabeth Pergam (Sotheby's Institute of Art)
14:10 – 14:25  Adriana Turpin (Institut d'Etudes Supérieures des Arts): Dealers and the development of a market for English Eighteenth-century furniture
14:25 – 14:40  Valeria Paruzzo (Università di Trento – Dipartimento di Lettere e Filosofia): The dealer Giovanni Querci della Rovere selling paintings beyond the borders of Austrian Venice (1815-1866)
14:40 – 14:55  Camille Mestdagh (Centre Georges Chevrier/LAHRHA): Knowing the key go-betweens: a condition for market leadership
14:55 – 15:10  Patricia Delayti Telles (CEAACP/ University of Coimbra): Against all odds: the commerce of paintings in early 19th century Portugal and Brazil
15:10 – 15:25  Discussion
15:25 – 15:30  Break
Panel 2 – The American moment of the internationalization (at the turn of the 20th century)
Chair: Yaëlle Biro (The Metropolitan Museum of Art)
15:30 – 15:45  Lynn Catterson (Columbia University): The Florentine Dealer Stefano Bardini and his strategies for Art Market Power
15:45 – 16:00  MaryKate Cleary (The University of Edinburgh): Marius de Zayas and Henri-Pierre Roché: Agents of the Art Dealer Paul Rosenberg
16:00 – 16:15  Susana Stüssi Garcia (HiCSA, Université Paris 1 Panthéon-Sorbonne): Mexico – Paris – New York. Eugène Boban and the invention of a Pre-Columbian art market in 19th century Paris
16:15 – 16:30  Discussion
16:30 – 16:35  Break
Panel 3 – The American moment of the internationalization (at the turn of the 20th century)
Chair: Sandra van Ginhoven (Getty Research Institute)
16:35 – 16:50  Christine Vivet-Peclet (Centre de Documentation – Musée des monuments français – Cité de l'architecture et du patrimoine): The Demotte Inc. and the betting of the American Art Market
16:50 – 17:05  Tom Hardwick (Houston Museum of Natural Science): Sterling, dollars, and Tutankhamun: Spink and Sons and the American market for Egyptian antiquities
17:05 – 17:20  Denise M. Budd (Bergen Community College): Charles Mather Ffoulke and the Emerging Tapestry Market
17:20 – 17:35  Meike Hopp (TU Berlin): Julius Böhler: a Munich art dealer expands to the American east coast of the "Golden Twenties"
17:35 – 17:50  Discussion
Day 2 – 03.11.2020
Panel 4 – Art Market Power in the 20th century
Chair: Frances Fowle (Edinburgh College of Art)
14:00 – 14:15  Catherine B. Scallen (Case Western Reserve University): International Art Dealing and the Collecting of Expertise. Duveen Brothers and its Strategic Engagement with Museum Professionals
14:15 – 14:30  Vérane Tasseau (Independent Art Historian/ Researcher Picasso Estate): Daniel-Henry Kahnweiler's international partnerships
14:30 – 14:45  Discussion
14:45 – 14:50  Break
Panel 5 – Art Market Power in the 20th century
Chair: Filip Vermeylen (Erasmus University Rotterdam)
14:50 – 15:05  Anne Rothfeld (Independent Researcher): Hans Wendland – The Link to Sales in Switzerland
15:05 – 15:20  Stéphanie Ginalski, Emilie Widmer, Claire-Lise Debluë (Institute of Political Studies, University of Lausanne): Art societies as local and transnational power institutions: The case of Zurich
15:20 – 15:35  Maria de Lima Mayer (Casa-Museu Fundação Medeiros e Almeida): How "John Sparks Ltd." influenced the British Chinese art market
15:35 – 15:50  Discussion
15:50 – 15:55  Break
Panel 6 – Art Market Power in the 21st century
Chair: Marta Pérez Ibáñez (Independent Researcher)
15:55 – 16:10 Makoto Shimada (Keio University Law School): Market power in art auction in Japan
16:10 – 16:25  Rémy Auguste François Jarry (Chulalongkorn University) – Southeast Asian Art Market: Emergence and Integration of ASEAN Countries
16:25 – 16:40  Marion Bertin (École du Louvre & Université de la Rochelle – CRHIA): "The market is dying": power and conflicts between art dealers and auctions houses in the tribal art market
16:40 – 16:55  Discussion
16:55 – 17:00  Break
Panel 7 – Art Market Power in the 21st century
Chair: Adelaide Duarte (Instituto de História da Arte, NOVA/FCSH)
17:00 – 17:15  Alain Quemin (Université Paris-8): Elaborating a ranking of leading contemporary art galleries: Does nationality matter and to what extent is internationalization necessary to control the market?
17:15 – 17:30  Melanie Fasche (Sotheby's Institute of Art): Geographic expansion and market power in the contemporary art sector: evidence from leading commercial galleries
17:30 – 17:45  Laurel Zuckerman (Independent researcher): Computing Impact: A methodology for identifying top NEPIP art dealers by frequency of mentions in provenance
17:45 – 18:00  Discussion
18:00 – 18:10 Closing remarks