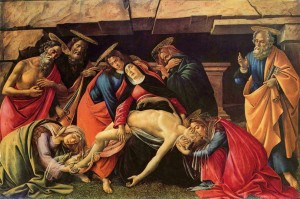 Istituto Universitario Olandese di Storia dell'Arte, Florence, June 20 – 21, 2014
Sandro Botticelli (1444-1510): artist and entrepreneur in Renaissance Florence
International conference organised by Gert Jan van der Sman (Istituto Universitario Olandese di Storia dell'Arte) and Irene Mariani (The University of Edinburgh).
20-21 June 2014
Florence, Istituto Universitario Olandese di Storia dell'Arte
The art of Botticelli is at the very centre of Renaissance scholarship. While iconographic studies have greatly enhanced our knowledge of the artist's imagery and its intellectual context, the complex interpretative literature has obscured our perception of Botticelli as a Florentine citizen, painter-craftsman, and entrepreneur. Putting less emphasis on the world of ideas, this conference seeks to address crucial issues in understanding the concrete dimension of Botticelli's artistic activity. The speakers will explore four facets that bring together new trends of investigation: his working methods and technique; his drawing practice; his commercial strategies; and his relationships with neighbours, patrons and friends.
Over the past decades Botticelli's paintings have been subject to considerable technical analyses that have highlighted the painter's extraordinary skills. During the conference new findings will be presented, including the recently discovered underdrawings of the Munich « Pietà ». Furthermore, his use of drawings on paper and parchment will be re-evaluated in terms of their attribution, style and function. Finally, the conference seeks to address the complex issue of Botticelli's painting practice in relation to production costs, artistic competition, and social factors such as honour, friendship and reputation. Ties of obligation, patronage, and friendship forged by Botticelli help to explain the more immediate local realities of his career's development. As to his relationship with Angelo Poliziano, attention will be drawn to the question of how Poliziano used to communicate with those around him by means of a close examination of his teaching methods.
Programme
Friday, June 20
11.00 Michael Kwakkelstein – « Director's welcome »
11.15 Gert Jan van der Sman (Istituto Universitario Olandese di Storia
dell'Arte) – « Introduction »
11.30 Diane Kunzelman (Opificio delle Pietre Dure, Florence) – « Comparative technical investigation of several paintings by Sandro Botticelli »
12.00 Maria Cristina Rodeschini (Accademia Carrara/Galleria d'Arte Moderna
e Contemporanea di Bergamo) – « I Botticelli dell'Accademia Carrara di Bergamo: il risultato dei recenti restauri »
12.30 Andreas Schumacher (Alte Pinakothek, Munich) – « The Pietà in Munich: technical analysis and new findings »
13.00 Discussion
14.30 Lorenza Melli (Kunsthistorisches Institut, Florence) – « La 'Simonetta' e il suo disegno »
15.00 Jonathan Nelson (Villa I Tatti, Florence) – « Reconsidering the 'Triumph of Love' (Biblioteca Classense Ravenna) attributed 'to Botticelli'. »
15.30 Francesca Migliorini (University College, London) – « Botticelli's illustrations for Dante's 'Comedy': some new insights into form, 'function and patronage'. »
16.00 Tea/Coffee
16.30 Michelle O'Malley (University of Sussex) – « Taste, demand and the production of quality: Botticelli after 1490 »
17.00 Irene Mariani (The University of Edinburgh) – « Botticelli's 'Mars and Venus' and the Vespucci family »
17.30 Discussion
18.00 Reception
Saturday, June 21
10.00 Alessandro Cecchi (Palazzo Pitti, Florence) – « I dipinti di Botticelli e bottega conservati nella Galleria Palatina »
10.30 Gert Jan van der Sman (Istituto Universitario Olandese di Storia dell'Arte) – « Botticelli's life and career in the Gonfalone dell'Unicorno »
11.00 Tea/Coffee
11.30 Hans Körner (Heinrich Heine Universität Düsseldorf) – « 'Più femmine gnude bellissime.' Decontextualization as artistic and 'economic' strategy in the work of Sandro Botticelli. »
12.00 Laura Refe (Independent scholar) – « Alla scuola di Poliziano: i multiformi percorsi di un
insegnamento 'd'eccezione' nella Firenze del Botticelli. »
12.30 Discussion and concluding remarks
This conference is funded with support from: Foundation Friends of the Dutch Institute in Florence; and Royal Netherlands Academy of Arts and Science (KNAW)
The conference is open to the public with no charge.
Pre-registration is required to guarantee seating: iuo@iuo.iris.firenze.it
Location: Istituto Universitario Olandese di Storia dell'Arte, viale
Torricelli 5, 50125 Florence (tel: (0039) 055 221612. Website:
niki-florence.org)