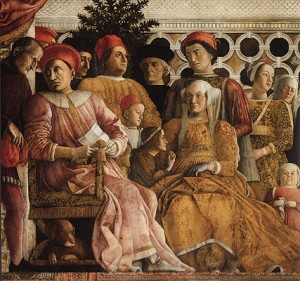 In the late medieval and early modern period the price of a work of art was the result of a complex and multi-layered process of negotiation between those in involved in its production, those who acted as agents and brokers and the customer. On the one hand the price was determined by object's material value, by its size, by the work, number of employees and the time involved in its production as well as by attributions of value and significance that were dependent on questions of genre. On the other hand the idea of a specific « artistic value» began to emerge, and between 1500 and 1800 this element began to play an increasing part in determining the price of a work of art. Artistic value was expressed in categories that were hard to calculate in monetary terms as they were genuinely aesthetic categories such as the standing and genius of the artist and the artistic quality of the work itself. The question that presents itself here is how and with what arguments this process of negotiation was conducted and what protagonists exerted influence on it.
In Spring of 2012 a conference entitled  « The process of pricing on theart market in late medieval and early modern towns » that took place at the Schwabenakademie Irrsee approached this question within a marked civic context. The conference announced here will focus on the role and function of European courts and the various players within that context in negotiating the price of art works. It is hoped that case studies will illuminate the question from various disciplinary perspectives, primarily art history, history, musicology and literary history :
– What was the significance of the competition between different courts to acquire sought after works of art ? How did this situation of rivalry potentially increase the need for courtly representation ?
– How did artists and/or their agents exploit this rivalry to demand higher prices ?
– How did courtly discourse on the subject of art play a part in constituting its ideal or material value ?
– Were courtly discourses on art, the complexity and artifice of the work of art and the level of the price paid for it mutually influential ? Can evidence of a process of development be seen ?
– Were art works belonging to different media and genres products of a specific courtly competitive process of creating superlatives and did this particularly encourage cooperative ventures between artists belonging to different guilds ?
– Did the increasing professionalization of court festival culture in the course of the 17th century have any influence on the pictorial arts in establishing norms for products and prices? How does the ephemeral artwork produced at court fit into this debate?
– Can differences be seen in the ways in which pricing occurred in various genres such as craftwork, sculpture, painting.
– Are the pricing mechanisms similar for moveable or built-in works of art (e.g. room décor in castles) ?
– What are the sources that can be used to address these questions ? What is the significance of the valuations given in estate inventories, for example ?
– What did it mean for the mechanisms of pricing of art in a court context when artists themselves were presented with works of art as gifts ?
Suggestions for papers (approx. 30 minutes) are welcome. They should be based on individual case studies that contribute to establishing an overarching and systematic approach to the theme of the conference. Please note that the topics of gift culture and of art and diplomacy do not fall within its scope.
The conference will take place in the context of cooperation between the following project s: TAK / Trierer Arbeitsstelle für Künstlersozialgeschichte, v.a. das EU-Projekt , Artifex – Entgrenzungen: Künstlerausbildung der Gilden in Zentraleuropa bis zur Auflösung des Heiligen Römischen Reiches  von Prof. Dr. Dr. Andreas Tacke, Universität Trier, Handeln mit Kunst und Politik : Philipp Hainhofer – Kunstunternehmer und diplomatischer Akteur der frühen Neuzeit von Dr. Michael Wenzel, Herzog August Bibliothek Wolfenbüttel.
Submissions of proposals in German or English (abstracts of approx. 2000 characters) with a short c.v. and a list of selected relevant publications should be sent by 31th August 2013 to: tacke@uni-trier.de

Information on the participating projects :
www.tak.uni-trier.de
www.hab.de/de/home/wissenschaft/projekte/philipp-hainhofer-kunstunternehmer-und-politischer-akteur-der-fruehen-neuzeit-.html
Contacts :
Prof. Dr. Dr. Andreas Tacke
Lehrstuhl für Kunstgeschichte
Universität Trier
54286 Trier
tacke@uni-trier.de
Dr. Michael Wenzel
Herzog August Bibliothek Wolfenbüttel
Postfach 1364
38299 Wolfenbüttel
mwenzel@hab.de