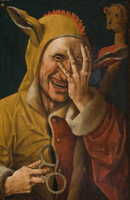 Le prochain congrès de la Renaissance Society of America (RSA) est prévu à Dublin entre le 30 mars et le 2 avril 2021, sous réserve des conditions sanitaires.
Des appels à communication ont été publiés pour dix nouvelles sessions :
1.Digital Humanities Sessions
2. Globalizing Early Modern Eastern European Art
3. Revisiting Collecting Antiquities
4. Facciati Dipinti e Parlante: New Investigations of the Frescoed Façade in Italy
5. Alterations/Alterity: The Figure of the Tailor in the Early Modern Hispanic World
6. Michelangelo and Artistic Media: Multiplicity or Unity?
7. Dark Jokes and Laughing Artists: Early Modern Art and Humor
8. Sacred Music, Ceremony and Architecture in Transcultural Perspectives
9. Making Green Worlds]
10. Shores, Coastlines, and Horizons
_______
[1] Digital Humanities Sessions
Date: 13 July 2021
Deadline: August 2, 2021
As the Discipline Representative for Digital Humanities at the RSA I am organizing once again papers, panels and roundtables for the upcoming conference. I welcome suggestions and proposals by the community. Please submit a paper title, an abstract (150-word max.) and a short CV by 2 August. I will organize panels and roundtable around specific topics, but will also leave space for single contributions in open panels.
Of particular interest this time are
– Data sustainability: Where do we go with our projects?
– Beyond Linked Data: Data querying services through API and SPARQL
– Any topics for open panels
__________________________
[2] Globalizing Early Modern Eastern European Art
Date: 13 July 2021
Deadline: 2 August 2021
In recent years, global approaches to the study of art and material culture have gained momentum, particularly in Anglo-American academia. An increasing number of scholars of eastern Europe are embracing this newly expanded purview by integrating comparative and transcultural methods into their research and teaching. The new approach is nonetheless still awaiting wider recognition from the incipient field of eastern European Art History, particularly for histories of the early modern period. Elsewhere, the global turn led to new transgeographical perspectives which have begun to challenge the once-dominant national paradigm in various art-historical traditions. The question remains, however, how to meaningfully include eastern Europe in the discipline's ongoing explorations of cultural heterogeneity and global circulations of artefacts, and—more importantly—whether other scholars have anything new to learn about these processes from the study of the region. This panel, therefore, seeks case studies that interrogate the transcultural potential of eastern Europe's past.
Please send a 150-word abstract, a curriculum vitae no longer than 5 pages, and the PhD completion date (as per the RSA guidelines) to Robyn Radway (
RadwayR@ceu.edu
) and Tomasz Grusiecki (
tomaszgrusiecki@boisestate.edu
) before Monday, 2 August 2021. Presenters will have to be active RSA members.
__________________________
[3] Revisiting Collecting Antiquities
Date: 14 July 2021
Deadline: 6 August 2021
The Society for the History of Collecting
The significance of owning and displaying antiquities for the Renaissance collector has never been doubted and the importance of surviving antique works of art for both collectors and artists is well understood. Recent research has shown that the meaning of these works for collectors, that underpinned their acquisition and display, is more nuanced than previously thought, often reflecting market forces as much as the reputation or scholarship of the individual owner. In light of the revived interest in the world of the Renaissance collector, his/her relationship to the market and in questions of connoisseurship and authenticity, the Society for the History of Collecting invites new research and new interpretations of these topics. Areas of particular interest include: the consideration of new types of collectors, such as women and merchants, as well as courtiers; artists' collections and their importance in the artist's practice; antique collections outside of Italy; questions of fakes, copies and authenticity and the language of connoisseurship.
As an Associate Organization of RSA, the Society for the History of Collecting can sponsor up to four sessions. Proposals are invited for 20-minute papers. They must include a title, abstract of no more than 150 words, keywords, a one-page CV and a short summary biography, with PhD completion year or expected completion as of spring 2022. Speakers will need to be members of RSA and members of the Society for the History of Collecting at the time of the conference.
Proposals should be sent to Adriana Turpin at
sochistcoll@gmail.com
with the heading "RSA Proposal" by 6 August, 2021. Selected papers will be grouped thematically in the case of holding more than one session.
_______________________
[4] Facciati Dipinti e Parlante: New Investigations of the Frescoed Façade in Italy
Date: 15 July 2021
Deadline: 1 August 2021
Though its remains are vanishing rapidly, the frescoed façade tradition of the Italian peninsula has enjoyed a recent resurgence in interest among scholars for the variety and ingenuity these painted faces revealed. From desires to root structures in antiquity to simply dressing one's dwelling to make a humble space more imposing or on trend, these facades tell their own stories of artistic innovation, symbolic meaning, and visual presence among the bustling streets of many Italian urban centers. This session welcomes papers that explore frescoed facades from various perspectives. Areas of inquiry might include the investigation of specific visual legacies; the probing of modes of artistic exchange among artists who specialized in frescoed or sgraffitoed design; the interplay between textual inscriptions and visual imagery; or the connections between urban centers within the Italian peninsula and beyond.
Those interested in contributing to this session should email the following to session organizer Alexis Culotta (
aculotta1@tulane.edu
) by 1 August 2021:
– paper title (15-word maximum)
– paper abstract (150-word maximum)
– short resume (.pdf or .doc upload)
– PhD or other terminal degree completion year (past or expected)
– full name, current affiliation, and email address
– primary discipline (list of RSA disciplines for 2021-22: shorturl.at/bjmzL)
___________________________
[5] Alterations/Alterity: The Figure of the Tailor in the Early Modern Hispanic World
Date: 14 July 2021
Deadline: 3 August 2021
In the early modern Hispanic world, the tailor was a profoundly multivalent and unsettling figure whose traces can be found in the archive, on the stage, and in works of art. In his Sueños y discursos, Francisco de Quevedo warns of the deceptions of those who earn their keep as tailors but dress themselves as noblemen. Meanwhile, in Los cigarrales de Toledo, Tirso de Molina defends contemporary theater by likening its mixing of literary registers to the actions of humankind's "primer sastre" sewing together animal skins for Adam and Eve. These contradictory images point to the anxiety this figure could produce: who was the tailor—fraud or God?
By virtue of his ability to transform a person's appearance through his craft, the tailor presented a threat to the established social order. The tailor's art contributed materially to increasing, unauthorized social mobility: given the right clothes, anyone could pass as anything. This was not his only potential offense. Both historical tailors and those who appear in visual and textual representations are repeatedly implicated in a variety of sexual and gender-based transgressions because of their unique access to their clients' bodies and domestic spaces.
Though tailors were subject to suspicion across early modern Europe, in Spain, the threat took on specific urgency due to the unique structure of society and its multiconfessional past. Enduring concerns about blood purity and anxieties over the social mobility of outsiders were caught up in the figure of the tailor. The profession had strong associations with Spain's others, particularly conversos, and metaphors related to tailoring and textiles are frequently invoked to describe Black Hispanic subjects. As the seventeenth century progressed, increasing enforcement of sumptuary laws and anxieties about decorum in dress are some of the most visible legacies of these issues, seen everywhere from the concern that fashion could hide sinful behavior (the guardainfantes hiding illicit pregnancies) to luxurious garments posing a threat to proper devotion (in the dressing, for example, of imágenes de vestir). What is more, the very materials fashion depended on were contingent upon empire and global trade networks, and the specificities of Spanish dress were tailored to and altered by local contexts throughout the Hispanic world.
We welcome papers in English or Spanish that approach these issues from a variety of disciplines and perspectives. Studies might address historical tailors and figures in the textile industry, literary renditions of tailors and their work or metaphors about them, art historical depictions of clothing and the transgressive properties of dress, and explorations of the material cultures associated with tailoring in the early modern Hispanic world.
___________________
[6] Michelangelo and Artistic Media: Multiplicity or Unity?
From: Angeliki Pollali (apolla@otenet.gr)
Date: 16 July 2021
Deadline: 2 August 2021
Session organized by Angeliki Pollali (Deree-The American College of Greece) and Berthold Hub (University of Vienna)
In Vasari's Vite, Michelangelo is the only artist credited with the attributes of all three arti: Michelagnolo Buonarotti, pittore, scultore, et architetto. While Vasari presents the different artistic media as distinct, they were closely interrelated in the sixteenth century. Modern scholarship has treated the different media in Michelangelo's work extensively, albeit separately, focusing initially on painting and sculpture, and subsequently on architecture. The intersection of the different arti has comparatively received less attention. Relative scholarship has focused primarily on specific projects, which inherently combine different media, such as the New Sacristy in San Lorenzo. In some cases, drawing has been examined as an integral part of Michelangelo's practice. It has been suggested, for instance, that figurative drawing constitutes the basis of the artist's conception of architecture in terms of disegno.
This session intends to build on this discussion and to shift the focus to the interrelation of the different media/practices in Michelangelo's work. It invites explorations of new intersections of media or a re-examination of existing ones. Contributions on architecture (conceived and/or materialized) are particularly welcome. Given that our modern art historical specializations reflect the compartmentalization of the artistic media, we propose to examine the characteristics that bring unity to Michelangelo's work. The crossovers in the different arti/media can shed new light on the artist as well as sixteenth century practice.
Please submit the following to Angeliki Pollali (apollali@acg.edu) and Berthold Hub (berthold.hub@univie.ac.at) by August 2, 2021:
– full name, current affiliation, and email address
– paper title (15-word maximum)
– abstract (150-word maximum)
– CV (2 page maximum)
– PhD or other terminal degree completion date (past or expected)
– primary discipline (list of RSA disciplines for 2021-22)
Note that presenters will have to be active RSA members.
_______________________________
[7] Dark Jokes and Laughing Artists: Early Modern Art and Humor
From: Hollie Buttery (buttery@fas.harvard.edu)
Date: 18 July 2021
Deadline: 4 August 2021
This panel focuses on humor and art in the years 1450-1670. Humor relies on dialogue: born from the collision and unexpected juxtaposition of people or ideas. For art historians, the question of humour is thus a conundrum. With context obscured by historical distance, how exactly do we recover and understand a humorous tone? Such questions are especially pertinent for objects with darker subjects, where violence coexists alongside potential laughter. How does the ambiguity of humor affect the sharp precision of cruelty? We invite paper proposals centering on material that brings light to these or similar questions. Work on all genres and media, as well as multidisciplinary approaches, are welcome.
Please send the following to Hollie Buttery and Sarah Rosenthal (buttery@fas.harvard.edu, scr875@g.harvard.edu) by 4 August:
– paper title (15-word maximum)
– paper abstract (150-word maximum)
– resume (.pdf or .doc upload)
– a short bio
– PhD or other terminal degree completion year (past or expected)
– full name, current affiliation, and email address
– primary RSA discipline
––––––––––––––––––––––––––––––
[8] Sacred Music, Ceremony and Architecture in Transcultural Perspectives
From: Bronwen Wilson
Date: 17 July 2021
Deadline: 30 July 2021
Sacred sound, space and ceremony were intertwined in perceptions of the divine in the early modern world. We seek papers that explore aural and sonic dimensions of religious practices and architectural spaces, particularly proposals that engage with transcultural interactions. Multisensorial dimensions of religious settings (and their critiques) often come into sharper focus in the context of religious and political conflicts. While the sacred permeated societal and political structures of early modern communities, sacred settings were largely determined by both local ecclesiastical and Indigenous models and precedents, and by those that were transposed, such as colonial practices that accompanied European missionary activities in Africa, Asia, and the Americas. These settings were symbolic physical expressions of a specific faith and also performative multisensorial spaces for ceremonies and rites infused with music and sounds. Spaces and music were shaped by on-going translations and reinventions of local and imported devotional and creative practices.
Managing bodies and inciting experiences of the sacred, liturgical performances drew on deliberate architectural and sonic relationships between inclusion/exclusion in the holy site through barriers, screens and curtains, colours, light and materials. Rhythms, sounds, gestures and scents activated spiritual and bodily experiences. Soundscapes of sacred spaces (consisting, for example, of prayers, recitations, incantations, chants, polyphony, mass or other religious musical expressions) were influenced by architectural designs, decoration and acoustics of sacred spaces. Architects and builders also modified or developed new configurations of sacred spaces to meet both sacred ceremonial requirements and also increasingly complex musical compositions.
With the aim of fostering dialogue across disciplines, geographies, and cultures, we are seeking papers that explore the complex relationships between sacred space, sound and ceremony in the early modern period, including (but not limited to):
– sound in transcultural contexts (processes of appropriation, translation, reinvention; as a medium of resistance).
– architectural and liturgical traditions or soundscapes of specific sacred spaces in different geographical settings
– theories of acoustics in relation to architecture and decoration
– theories of sound as manifestations of the metaphysical and transcendence
– politics, gender and sound of sacred spaces
– case studies of composers/works who wrote for specific sacred spaces and/or architects who modified or developed new buildings for composers or new genres or soundscapes of different faiths
– sacred architectures of different religions and their interactions with spiritual sound and performance
– spiritual soundscapes in relation to sacred buildings and manifestations of the divine
– using digital technologies to recreate lost spatial and sonic experiences of sacred contexts of the past
Please send proposals for individual papers to all three organizers by Friday, July 30 2021:
Janie Cole, Africana Studies, (janie.cole@uct.ac.za)
Bronwen Wilson, Art History (bwilson@humnet.ucla.edu)
Evan A. MacCarthy, Music (emaccarthy@umass.edu)
Please include:
– paper title (15-word maximum)
– abstract (150-word maximum) abstract guidelines
– resume (.pdf or .doc upload) 4-page max
– PhD or other terminal degree completion date (past or expected)
– primary discipline
Notification of acceptance by Friday, August 6, 2021
Please note: individuals may submit one paper abstract for consideration at RSA.
https://www.rsa.org/page/AnnualMeetingSubmissionsGuide
––––––––––––––––––––––––––
[9] Making Green Worlds
From: Bronwen Wilson
Date: 17 July 2021
Deadline: 25 July 2021
How did the global escalation of environmental devastation generate the creation of green worlds in the early modern period? Invoking Harry Berger Jr., this panel takes up questions raised by ecocritical studies and growing interest in the real and imaginary green worlds of early modernity. Green worlds are created by practices like gardening, town planning, agriculture, and land reclamation; they are also fabricated in the fictive worlds of painting, performance, theatre, and poetry. These human-made environments are conceived as second worlds, controlled spaces that exist alongside the natural world and vie with nature itself in fashioning an artfully designed setting. The focus will be on the role of visual imagery that advances new understandings of the world as humanmade. The approach pays attention to constant, on-going creative processes of engagement with the earth to foreground critical and imaginative elements of worldmaking processes that occurred in tandem with a notable escalation in environmental devastation unleashed by globalization's exploitation of people and resources.
Making Green Worlds builds on the collaborative research project, Making Worlds: Art, Materiality, Early Modern Globalization https://www.makingworlds.net/
Potential topics include:
– transcultural spaces: gardens, plantations, waterways, coastlines, moving vessels, utopias
– resource extraction and management – mining, quarrying, fishing, hunting, agriculture, land reclamation
– labouring bodies, tools, practical manuals
– visual and material forms that embody, employ, or contribute to degradation and renewal
– phenomena that challenge human experience: mountains, waterfalls, ice, caves, storms, rainbows, earthquakes
– processes and systems of managing and classifying land and materials
– Indigenous knowledge and lifeways
– environmental and elemental iconographies
– design ecologies
Please send proposals for papers to both organizers by July 25th with return notification of acceptance by July 31:
– paper title (15-word maximum)
– abstract (150-word maximum) abstract guidelines
– resume (.pdf or .doc upload) (4 pages max)
– PhD or other terminal degree completion date (past or expected)
Angela Vanhaelen (angela.vanhaelen@mcgill.ca)
Bronwen Wilson — Discipline Rep for Art History (bwilson@humnet.ucla.edu)
–––––––––––––––––––––––––––––
[10] Shores, Coastlines, and Horizons
From: Bronwen Wilson
Date: 17 July 2021
Deadline: 25 July 2021
In Rising: Dispatches from the New American Shore, Elizabeth Rush describes "a new form of climate anxiety" called "endsickness" while kayaking along the coast of the Gulf of Maine. "Like motion sickness or sea sickness," Rush writes, "endsickness is its own kind of vertigo" a response to a "world moving in unusual ways, toward…a kind of event horizon."
While the effects of sea-level rise are integral to current discussions of climate change, early moderns, importantly, were engaged in multiple efforts to manage and contain a tenuous coastal relationship between land and sea. These efforts frequently relied on newly made, often inexact, cartographic maps that drew from measurements between stars, planets, and the horizon.
This panel seeks papers on narrative and representational aspects of the early modern distinctions between land, sea, and sky, and the environmental concerns these distinctions foreground in the present.
Topics may include, but are not limited to:
– the allegorical and rhetorical role oceans play in early modern conceptions of environmental catastrophe
– shoreline events and their historic horizons
– cartography and the mapping of changing/ shifting coastlines
– the Atlantic and Pacific coasts, and their different critical modes
– transcultural and trans-geographical trade: goods, raw materials, cultural practices, diseases
– visual imagery and material forms of shores, coastlines, horizons
This panel forms part of "Earth, Sea, Sky" (ESS), an international research network collaborating with, and under the umbrella of, Oecologies. ESS fosters new international dialogue in studies of medieval and early modern literature and visual culture. Its central aim is to examine the varied and contested premodern approaches to the natural world, as well as how this premodern archive resonates with contemporary concerns around environmental degradation and global warming.
Please send the following to all three organizers by July 25th (return notification of acceptance by July 31.)
Tom White (thomas.white@ell.ox.ac.uk),
Tiffany Jo Werth (tjwerth@ucdavis.edu),
Bronwen Wilson — Discipline Rep for Art History (bwilson@humnet.ucla.edu)
Please include the following:
– paper title (15-word maximum)
– abstract (150-word maximum) abstract guidelines
– resume (.pdf or .doc upload) (4 pages max)
– PhD or other terminal degree completion date (past or expected)
Please note that an individual may submit one paper abstract for consideration at RSA.
https://www.rsa.org/page/AnnualMeetingSubmissionsGuide