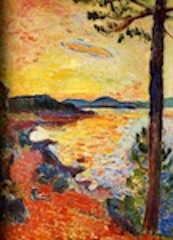 Currently, profound societal upheavals require a repositioning of the concept of « Modern Art. » As a museum, the Kunstsammlung Nordrhein-Westfalen is responding to the effects of globalization and digitalization by devoting itself to the pressing theme of « globalism » and the challenges associated with it.
With the project « museum global? » (2015–2017), the Kunstsammlung Nordrhein-Westfalen interrogates the grand narratives of Western modernism and its underlying canon. Through a research project conferences followed by exhibitions, and with a point of departure in our own collection, strongly grounded in the epoch of classical modernism, and hence in the art of Europe and North America, « museum global? » focuses on the period between 1904 and 1950. The oldest works in the Kunstsammlung Nordrhein-Westfalen date from the early 20th century. A historical prelude is supplied by Henri Matisse's small format painting Le goûter (Le golfe de Saint-Tropez) (1904). The collection's core is formed by an ensemble of works by Paul Klee, an artist who was defamed as « degenerate » by the National Socialists and dismissed in 1933 from his teaching position at the Düsseldorf Art Academy. In 1961, the acquisition of the Klee collection by the federal state of North Rhine-Westphalia, a move intended as a kind of political atonement, led to the museum's foundation as a public institution.
The aim of the research project « museum global? » is from a contemporary perspective a critical interrogation of our own collection and the re-illumination of its history with reference to the period from 1904 to 1950. In search of diverse voices and for other narratives of modernity exemplary artworks from non-European regions become evident and will be analyzed, along with their contexts of production, with the intention of contributing to a revision of earlier perspectives. Special attention is devoted to the continuous transformation and development of the use of language and of terms such as « international, » « global, » « universal, » « cosmopolitan, » and « worldwide, » and of « classical modernism," "rural modernism, » « local modernism, » or "Tropical modernism" and their changing meanings. The project will culminate in autumn of 2017 in a concluding exhibition that will simultaneously present the collection from a newly-won perspective while showcasing exemplary positions and phenomena from the focus period of 1904–1950.
A preparatory, academic conference will be held on January 21–22, 2016 at the Kunstsammlung (in German and English with simultaneous translation). This event is designed to bring together scholars who concentrate on regional phenomena and artistic and intellectual tendencies that are situated beyond, parallel, or in opposition to the so-called « modern » art scene in central Europe and North America. The introductory panel will be devoted to a revision of the modernist canon and its historiography. The main emphasis of the conference will be selected case studies that exemplify international exchanges via artists and artworks during the above-named time period.
We are hereby issuing an invitation to potential participants to give 30 minute talks based on research related to the following aspects:
Questioning the narrative of modernist art history, in particular of Paris as a center of artistic activity during the first half of the 20th century;
attempts to open up perspectives onto contemporanean artistic phenomena worldwide;
examinations of hitherto little-discussed artistic practices and local art historiography worldwide;
considerations of local artists and artist's groups situated beyond the art scenes of Europe and North America;
transcontinental artistic networks and collaborations;
influential intellectual tendencies, ideas, discoveries, concepts, and fashions that interconnect different regions;
art world protagonists and intermediators that have shaped dialogue and networks worldwide, thereby mediating between cultures and regions;
current theoretical positions that, aware of the results of postcolonial studies, reflect critically on concepts such as « exoticism, » « primitivism, » or « Orientalism »;
considerations of the relevant political, societal, and historical conditions, including specific historical examples, i.e. concerning mobility and travel of artists during the period as well as of trade routes and the circumstances of exile;
 interdisciplinary examinations of intersections between the visual and applied arts, literature/poetry, music, theater, dance, photography, and film.
Please submit abstracts of your contribution (300–500 words, in German or English) and a brief biography by September 1, 2015 to museumglobal@kunstsammlung.de. Travel costs for lecturers will be covered by the Kunstsammlung Nordrhein-Westfalen. Honoraria will be offered as well.
Given the large number of thematic foci for the period, for which research efforts have barely begun in the global context, this conference attempts explicitly to stimulate exchanges between scholars. For this purpose, and on our initiative, the research interest « global modern art museum » has been set up at academia.edu, and will hopefully serve as a common platform.
Please signal your interest in conference participation at http://goo.gl/forms/k2OmojfIpg. Starting in October of 2015, you will receive information concerning the conference program.
This research project of the Kunstsammlung Nordrhein-Westfalen – in whose framework the conference is being organized – is sponsored by the Kulturstiftung des Bundes/German Federal Cultural Foundation.
KUNSTSAMMLUNG NORDRHEIN-WESTFALEN
K20 GRABBEPLATZ │ K21 STÄNDEHAUS │ F3 SCHMELA HAUS
Grabbeplatz 5 │ D-40213 Düsseldorf
museumglobal@kunstsammlung.de
www.kunstsammlung.de