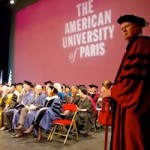 The American University of Paris invites applications for a full-time position in the Department of Art History & Fine Arts at the rank of Assistant Professor, pending budgetary approval. The area of specialty is open within the early modern period (ca. 1500-1800), but candidates should be able to teach Renaissance, Baroque and 18th– century Art. An interest in teaching one or two courses in a non-Western area would be highly desirable. Strong motivation to participate in interdisciplinary collaboration, including the teaching of writing and contribution to the Visual Culture track, is an asset.
Qualifications: Ph.D. in Art History in hand. Proven capacity for engaged teaching, and research potential.
European Union citizenship or the legal right to work in France is helpful, but not necessary at the time of application. If the successful applicant is a citizen of some other country, The American University of Paris will apply for a visa to allow the person to live and work in France. However, it is important to note that the University cannot obtain immigrant visas for spouses and dependents.
The University is an equal opportunity employer for whom diversity is an essential source of vitality and strength.
The Institution:  Founded in 1962, The American University of Paris (AUP) is a small, undergraduate and Master's degree-granting institution with a Liberal Arts core, dedicated to the advancement of the Arts & Sciences in an international and multicultural environment. AUP brings together the values of the American higher education system with its location in Paris and Europe. AUP is accredited in the United States of America by the Commission on Higher Education of the Middle States Association of Colleges and Schools. AUP has cooperative agreements with Eugene Lang College – The New School and other USA-based universities.
The Department:
The Department of Art History & Fine Arts consists of an Art History major, a Fine Arts major, and an Art History major with an interdisciplinary Visual Culture track. We also house minors in Art History, Fine Arts and Visual Culture. Our classes are small (20 students maximum) and involve extensive on-site visits to museums and architectural monuments in Paris, and numerous short study trips to major collections and sites in other European cities.
Responsibilities:
Teaching responsibilities range from introductory undergraduate core courses to more site-specific classes such as "Paris through its Architecture" and "Paris through its Museums," to the possibility of teaching upper-level courses directly in the candidate's research area. Commitment to excellence in teaching, scholarship, curricular development & innovation, student advising and university service required. The standard teaching load is 3/3.
Salary Range:
€33.600 to €35.000 per annum
Applications:
Please submit a single PDF dossier including: curriculum vitae, cover letter, statement of pedagogical philosophy with evidence of teaching effectiveness, statement of research  interests and ONE writing sample of a recent scholarship to: ahsearch@aup.edu 
Three letters of reference should be sent electronically to ahsearch@aup.edu or, if preferred, by mail to:
Chair, Art History Search Committee
The Office of the Provost
The American University of Paris
5, boulevard de la Tour Maubourg
75007 Paris FRANCE
Applications MUST be sent electronically in PDF format.
E-mail inquiries are welcome.
Review of applications will begin on 15 December 2015 and continue until the position is filled.