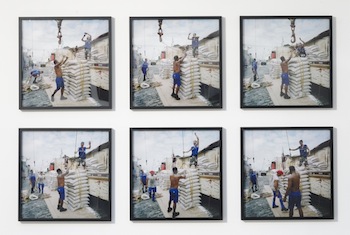 This conference takes the US artist, theoretician, critic, teacher and poet Allan Sekula's Ship of Fools / The Dockers' Museum (2010-2013) as its point of departure. At the very end of his life Sekula produced this unfinished, multifaceted and variably installable work of art, which contains ca. 1250 objects. By taking as subject dock workers and seafarers, Sekula wished to pay tribute to all the joined, past efforts of human labor now irretrievably lost in history—a struggle he identifies as "Sisyphean." In doing so, Sekula provides a message of hope: his last work contributes to imagining possible forms of solidarity in a globalized economy confronted ever-more with its own limitations.
The conference is organized around three thematic sections.
Each forms a separate session that opens up to contemporary art engaging with Sekula's seminal legacy of making artworks as "disassembled plays"—a term he connected to the work of Bertolt Brecht, and which served to indicate that he demands a substantial productive and temporal input from the spectators who are experiencing his works.

1. Collecting Folly
Keynote speaker: W.J.T. Mitchell (University of Chicago)
Respondent: Barbara Baert (KU Leuven)
Allan Sekula's The Dockers' Museum was born out of the artist's compulsion to collect what he called "objects of interest" principally coming from or representing the universe and imaginary of dock workers. Far from being a pass time, this unfinished project is the culmination of long term research into the lives and maritime labors that are exploited in order for global capitalism to strive and create its seamless flow and circulation of goods. The act of collecting the metonymical objects that compose Sekula's museum was largely carried out by the artist through online platforms such as eBay, thus ironically and virtually simulating and retracing on a miniature scale the processes his very collection puts into question.
The visual and conceptual dialogue Sekula established between The Dockers' Museum and his own photographic work Ship of Fools is the source of inspiration for the session of the conference entitled Collecting Folly. The title of the session is meant to capture a twofold inquiry that looks, on the one hand, at collecting through the lens of folly and madness; and, reversely, to the 'collection' of representations of fools and of madness (Mitchell). This session will thus look both into the historically significant motif of the 'ship of fools' in art and visual culture and at the history of 'artists' museums' (e.g. Marcel Broodthaers' Musée d'art moderne or Claes Oldenburg's Mouse Museum).
From the perspective of contemporary art, the session will center on the following questions:
– what are the particular strategies and intuitions that contemporary artists put into play in their collections and how do they differ from those of private and public collections?
– how is collecting transformed into a tool for contemporary artists and towards who or what is it directed?
– what is the critical potential of representations of folly and madness in contemporary art? Do they destabilize normative understandings of production, including artistic production?

2. Maritime Failures and Imaginaries
Artist lecture: Marco Poloni (artist, Berlin)
Respondent:Alexander Streitberger (UC Louvain)
Since Fish Story (1988-1995) Allan Sekula has conceptualized, through his art and writings, the maritime sphere as a way to explore novel epistemological questions with regard to the increasingly opaque nature of globalized capital.
Following his queue, this session wants to look at the myriad of ways in which artists have recently explored the imaginaries and materialities of the maritime as a space of disaster and failure (e.g. CAMP, John Akomfrah, Amy Balkin, Ursula Biemann…): One the one hand, it investigates the possibilities of artists confronting ecological disasters, unbridled supply chain capitalism, violence and death related to migratory crossings, and the fraught histories of imperialism and colonialism.
On the other hand, this session is equally interested in those forms of solidarity and agency connected to the world of maritime labor: mutinies, piracies and waterfront insurrections that, although failed, offer alternative models of rupture and contestation for our present predicament.
The session welcomes papers dealing with the following topics:
– the maritime as critical imaginary
– maritime infrastructure in contemporary art and visual culture
– the logistical or maritime sublime (e.g. Edward Burtynsky)
– contemporary art and waterfront insurrection
– contemporary art and oceanic studies
– mapping and cartographic practices related to the maritime

3. Critical Realism in Dialogue
Keynote speaker: Benjamin H.D. Buchloh (Harvard University)
Respondent: Hilde Van Gelder (KU Leuven)
One way to productively describe Allan Sekula's artistic approach over the past two decades has been to identify it in terms of "critical realism" (Buchloh). Realism, when understood this way, is not necessarily an artistic style. It rather points to the research methods of a reflective artistic practice, including ‒ among other elements ‒ high-profile theoretical and essayistic writing, photography and essay film. Foundational for such a methodology is the dialogue and participatory observation that the artist seeks with workers, activists and scholars to explore existing and potential models of collaboration (e.g. with trade unionists on the Global Mariner ship or with activist organizations during the 1999 WTF protests in Seattle).
This session seeks to explore different possibilities for bringing about such critically realist art practices and how they may be changing stakes within the field of contemporary art production. As a result, it is oriented towards the following questions:
– the role of skill and/or deskilling as well as the re-distribution of labor in contemporary art
– challenges to conventional forms of visual pleasure within contemporary art
– the consequences of opting for the worker as a key visual motif within an artistic practice: does that testify to an imaginary filled with artistic naiveté or may this "sympathetic materialism," as Sekula called it, bring about new social agencies among people and new insights with regard to our world's future?

Practicalities
The conference language is English. We welcome papers and lecture-performances from researchers working in art history, visual culture studies, media studies, film studies, sociology, curating and art. We also encourage researchers from other fields (such as law, economics, philosophy, maritime biology or geography, …) to apply, bearing in mind that their papers should make an interdisciplinary connection to issues and/or materials of contemporary art.
Abstracts for a 20-minute paper (300 words, including a title) in English should be emailed to Mieke Bleyen (mieke.bleyen@kuleuven.be) no later than September 12, 2016.
Please include the title of the conference in the subject of the email. Submissions should also include a short CV or biographical text (max. 1 page A4).
The scientific committee of the conference will notify speakers of their decision by October 3, 2016.
The conference proceedings will be published as a separate book volume within the Lieven Gevaert Series (Leuven University Press) and as a special issue of the online journal Image [&] Narrative.

Art Against the Grain of "Collective Sisyphus:" The Case of Allan Sekula's Ship of Fools / The Dockers' Museum (2010−2013) is a major and long-term research project jointly pursued by M HKA and the Lieven Gevaert Research Centre for Photography, Art, and Visual Culture (2014-2019). It has received  generous funding by the Research Council of the University of Leuven and by the Research Foundation-Flanders.