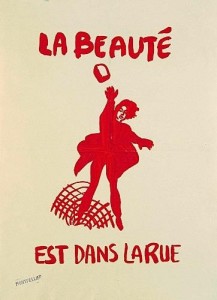 The Universidad Autónoma de Madrid and the Museo Nacional Centro de Arte Reina Sofía are pleased to invite submissions for an International Conference to be held at the Museo Nacional Centro de Arte Reina Sofía on 18-19th June 2015.
The international conference Politics, State Power and the Making of Art History in Europe after 1945 looks into the ways political power seeks to shape and influence the activities of art historians, art critics and museum professionals in order to control the understanding of art and artistic heritage. While this has often been associated with authoritarian and totalitarian rule, efforts to influence art history have not been limited to such regimes; direct and indirect political interference has shaped the field of art history from its early moments until the present day.
The study of the emergence and development of art history as a scholarly discourse is nowadays a significant field of research. The analysis of the social and political dimensions of the practices of art historians, art critics and curators has become a particular matter of interest. It is now urgent to think again about the agents, processes and discourses that shape (but also subvert and resist) a, mainly economy-driven, European Union to understand the past and the present. Such a reflection is crucial in order to suggest alternatives of a social, constructive and trans-national dialogue for the future.
This international conference will examine the intermeshing of state power and art history in European countries from 1945 up to the present. Those years have been marked by relevant events such as the end of the Second World War, the Cold War, the Soviet invasion of Hungary, decolonization processes involving countries like France, Belgium, the Netherlands, Portugal or Spain, 1968-events (from Paris May'68 to Prague Spring), the end of the dictatorial regimes (with subsequent "transitions") such as those in Italy, Germany, Greece, Portugal, Spain or Romania, the fall of the Berlin wall, the dissolution of the Soviet Union, the creation of the European Union with the Maastricht Treaty, the Yugoslav wars, economic crisis since 2008 and anti-austerity protests and movements such as 15-M in Spain or the Greek aganaktismenoi (outraged).
With a special focus on European countries, this international conference will take into account the relationship between art history and politics in well known cases, such as Nazi Germany and Communist Europe after 1945, as well as in less documented regions in Southern, Northern and Eastern Europe. It will provide a forum where, for the first time, international specialists in the development of art history in Europe will be able to discuss and compare the impact of politics on art history, art criticism and museums from 1945 up to the present. It will consider the influence of state power on art history in a variety of kinds of government, from dictatorship to liberal democracy.
Going beyond positivistic accounts of the history of art history, this conference aims at facilitating critical approaches and transnational comparisons in order to identify differences and parallelisms in the way politics affect and control the making of art history. It will also take into account its relationship with the emergence of counter-hegemonic networks, narratives and practices.
The following lines of research underlie all sessions :
The strategies of professionals in art history, art criticism and museums to shape, take advantage of, comply with or resist state policies.

The differences and similarities in the way art history is written and exhibited, and in the dynamics of the field of art history under dictatorships, authoritarian regimes, democratic regimes or transitional governments.

The way processes such as transformation and change are presented and staged in art history. For example, in which way a "democratic art history" or an "art history in democracy" is constructed and what role the idea of "transition" plays in it.

The role played by art history, museums and art criticism, in the construction of collective identities. For example, in what way they contribute to the definition of local, national and trans-national identities; in which way art-historical discourses participate in decolonization, colonization or auto-colonization processes, or in which way the tensions between competing identities shape art historical accounts.

The ways in which the politics of art historical discourse are conveyed to society by education and research policies, publications aimed at a broad audience, museum displays, mass media, etc.

Transnational comparisons, looking at salient differences and commonalities between different case studies.
The papers will be divided up among two sessions:
Session 1: Institutions and people
This session explores the trajectory of relevant institutions (such as museums, research centres, universities, journals, publishers, etc.) and professionals (individuals but also groups and networks) paying attention to their relationship with state power and policies. In what ways and by which means does state attitude towards the arts shape academic research, exhibitions and art criticism? For example, what agents develop which kind of strategies in order to influence and orient professionals' activities (fellowships abroad, academic meetings organisation, research funding, etc)? To what extent and how do professionals comply or resist official dictates? What role do women play in the field and why? In what ways do political changes affect the situation and position of art historians, art critics and museum professionals, the institutions they work in or the networks they are part of?
Session 2: Models, narratives and silences
This session addresses the way art historical accounts are presented in academic art history texts, exhibitions and art criticism. What elements are present in dominant narratives and which ones are not? For example, in what way are women artists or critical art presented? Where alternative narratives are to be found? How art history narrates its political position, history and development under authoritarian regimes, transitional periods or democratic ones? In what ways do narratives change through time and/or in relation with changes in political power? In what sense do these changes affect the presence (or absence) of artworks, artists, movements, etc. in historical accounts or museums? In what way a specific object has been politically transformed depending on the way it has been studied and/or displayed and in what sens is that related to politics? In which way does each narrative position itself in relation to mainstream models (whether they are Western models, Soviet models, or others)? What is the relationship between the dissident, anti-hegemonic models and the mainstream, dominant ones?
Terms and conditions
Please send abstracts (400-500 words) for a 20-minute talk and a brief CV (up to two pages) to aheu2015@gmail.com no later than 31st January 2015.
Contact details (address, e-mail, and telephone) and academic affiliation should be provided.
Papers will be accepted in Spanish and English.
Proposals for panels (consisting of 4 papers) are welcome.
The selection of papers will be communicated by 1st March 2015.
A book will be published containing a selection of the papers. Editorial guidelines and deadlines will be provided in due time.
Convenors:
Jesús Carrillo Castillo, Museo Nacional Centro de Arte Reina Sofía
Noemi de Haro García, Universidad Autónoma de Madrid
Patricia Mayayo Bost, Universidad Autónoma de Madrid
* * *
Política, poder estatal y la construcción de la historia del arte en Europa después de 1945
La Universidad Autónoma de Madrid y el Museo Nacional Centro de Arte Reina Sofía invitan al envío de propuestas para participar en este congreso internacional que tendrá lugar en el Museo Nacional Centro de Arte Reina Sofía los días 18 y 19 de Junio de 2015.
El congreso internacional Política, poder estatal y la construcción de la historia del arte en Europa después de 1945 estudia los modos en los que el poder político trata de configurar e influir en las actividades de los historiadores del arte, críticos de arte y profesionales de museos para controlar la comprensión del arte y el patrimonio artístico. Si bien esto se ha asociado frecuentemente con regímenes totalitarios y autoritarios, los esfuerzos por influir sobre la historia del arte no se han limitado a este tipo de regímenes; el impacto directo e indirecto de la política ha configurado el campo de la historia del arte desde su nacimiento hasta la actualidad.
El estudio de la aparición y desarrollo de la historia del arte como discurso académico es hoy en día un destacado campo de investigación. El análisis de las dimensiones sociales y políticas de la práctica de los historiadores del arte, críticos y comisarios es una cuestión de especial interés. Ahora es urgente repensar los agentes, proceso y discursos que conforman (pero también subvierten y resisten) una Unión Europea guiada fundamentalmente por intereses económicos con el objetivo de comprender el pasado y el presente. Una reflexión de este tipo es crucial para proponer alternativas sociales, constructivas y transnacionales de diálogo de cara al futuro.
Este congreso analizará el entramado de las relaciones entre el poder estatal y la historia del arte en países europeos desde 1945 hasta el presente. Este periodo ha estado marcado por acontecimientos como el final de la Segunda Guerra Mundial, la Guerra Fría, la invasión soviética de Hungría, procesos de descolonización en los que estuvieron implicados países como Francia, Bélgica, Holanda, Portugal o España, los acontecimientos de 1968 (desde el Mayo'68 parisino a la Primavera de Praga), el final de regímenes dictatoriales (con las "transiciones" subsiguientes) como los de Italia, Alemania, Grecia, Portugal, España o Rumanía, la caída del muro de Berlín, la disolución de la URSS, la creación de la Unión Europea con el Tratado de Maastrich, las guerras en Yugoslavia, la crisis económica desde 2008 y las protestas contra las medidas de austeridad y movimientos como el 15-M en España o el de los aganaktismenoi (indignados) en Grecia.
Este congreso se centra en el caso europeo para analizar la relación entre historia del arte y política en casos tan conocidos como los de la Alemania nazi o la Europa comunista después de 1945, así como en otros menos estudiados como los de los países del Sur, el Norte y el Este de Europa. De este modo se proporcionará un foro en el que especialistas internacionales en el estudio de la historia del arte europeo puedan, por primera vez, estudiar y comparar el impacto de la política en la historia del arte, la crítica de arte y los museos desde 1945 hasta el presente. De esta manera se analizará la influencia del poder estatal sobre la historia del arte en diversos tipos de gobierno, desde la dictadura a la democracia liberal.
Se pretende ir más allá del relato positivista de la historia del arte, promoviendo un acercamiento crítico y comparaciones transnacionales para identificar diferencias y paralelismos en el modo en el que la política afecta y controla la construcción de la historia del arte. Junto con esto se tendrá en cuenta su relación con la aparición de redes, narrativas y prácticas contra-hegemónicas.
Las siguientes líneas de investigación vertebrarán las sesiones:
Las estrategias de los profesionales de la historia del arte, crítica y los museos para configurar, aprovecharse, obedecer o resistir a las políticas estatales.

Las similitudes y diferencias en cómo se escribe y exhibe la historia del arte, y en cuáles son las dinámicas del campo de la historia del arte bajo regímenes dictatoriales, autoritarios, democráticos o bajo gobiernos de transición.

El modo en el procesos como la transformación y el cambio se presentan y escenifican e la historia del arte. Por ejemplo, cómo se construye una "historia del arte democrática" o una "historia del arte en democracia" y qué papel desempeña la idea de "transición" en ella.

El papel desempeñado por la historia del arte, los museos y la crítica de arte en la construcción de identidades colectivas. Por ejemplo, de qué manera estas prácticas contribuyen a la definición de identidades locales, nacionales y transnacionales; en qué modo el discurso de la historia del arte participa en procesos de descolonización, colonización o auto-colonización, o en qué forma las tensiones entre identidades que compiten entre sí da forma a la historia del arte.

Las maneras en las que la política del discurso histórico-artístico se comunican a la sociedad a través de políticas educativas y de investigación, publicaciones divulgativas, exposiciones museísticas, medios de comunicación, etc.

La realización de comparaciones transnacionales, atendiendo a las diferencias y puntos comunes más notables entre diferentes casos de estudio.
Las comunicaciones se organizarán en las siguientes sesiones:
Sesión 1: Instituciones y personas
Esta sesión analiza la trayectoria de instituciones relevantes (como museos, centros de investigación, universidades, revistas, editoriales, etc.) y profesionales (individuos pero también grupos y redes) atendiendo a su relación con el poder y las políticas estatales. ¿De qué modos y por qué medios la actitud estatal hacia las artes configura la investigación académica, las exposiciones y la crítica de arte? Por ejemplo, ¿qué agentes desarrollan qué tipo de estrategias para orientar e influir sobre la actividad de los profesionales (política de becas, organización de encuentros internacionales, financiación a proyectos de investigación, etc.)? ¿Hasta qué punto y en qué modo los profesionales obedecen o resisten los dictados oficiales? ¿Qué papel tienen las mujeres en el campo y por qué? ¿En qué sentido y de qué modo afectan los cambios políticos a la situación y la posición de los historiadores del arte, los críticos y los profesionales de los museos, así como a las instituciones en las que trabajan o las redes de las que forman parte?
Sesión 2: Modelos, narrativas y silencios
En esta sesión se aborda el modo en el que se presenta la historia del arte en las publicaciones académicas, las exposiciones y los textos de crítica de arte. ¿Qué elementos están presentes en las narrativas dominantes y cuáles no?, por ejemplo ¿de qué forma se presenta en ellas a las artistas o el arte crítico? ¿Dónde se pueden encontrar narrativas alternativas? ¿Cómo da cuenta la propia historia del arte de su posición política, historia y desarrollo bajo regímenes autoritarios, durante periodos de transición o en democracia? ¿De qué modo cambian las narrativas a lo largo del tiempo y/o en relación con los cambios políticos?¿En qué sentido afectan estos cambios a la presencia (o ausencia) de obras, artistas, movimientos, etc. en la historiografía o los museos? ¿De qué manera se ha transformado políticamente un objeto concreto en función del modo en que ha sido estudiado y/o exhibido, y en qué sentido está esto relacionado con la política? ¿De qué modo se posiciona cada narrativa en relación con los modelos dominantes (tanto si se trata de modelos occidentales, como soviéticos, u otros)? ¿Cuál es la relación entre los modelos disidentes, antihegemónicos y los dominantes?
Condiciones de presentación de las comunicaciones
-Las lenguas oficiales del congreso serán el castellano y el inglés.
-El tiempo de exposición de cada comunicación no excederá los 20 minutos. También serán bienvenidas las propuestas de mesas y paneles (de 4 comunicaciones).
-Las personas interesadas deberán remitir antes del día 31 de enero a la dirección de correo electrónico aheu2015@gmail.com un abstract (entre 400 y 500 palabras) resumiendo los contenidos de la comunicación y un CV (máximo dos páginas). Se deberá adjuntar también los datos de contacto del/la participante: nombre completo, institución a la que pertenece, correo electrónico, dirección postal y teléfono de contacto.
-El comité científico notificará la aceptación de las propuestas a partir del día 1 de marzo de 2015.
-Se publicará una selección de las comunicaciones aceptadas en un libro. Las normas de publicación y plazos se comunicarán en su debido momento.
Comité científico:
Jesús Carrillo Castillo, Museo Nacional Centro de Arte Reina Sofía
Noemi de Haro García, Universidad Autónoma de Madrid
Patricia Mayayo Bost, Universidad Autónoma de Madrid